Book on Google is a relatively new product which is garnering more and more attention from hotels. However, many hoteliers are still trying to understand how exactly this service works, whether they should sign up to it or not, and how (if at all) it would impact their Google Hotel Ads campaigns (metasearch) . Understanding Book on Google is especially important as some booking engine providers who offer a Book on Google connection may suggest that opting into this channel removes the need for hotels to run a CPC campaign with Google Hotel Ads.
Book on Google does exactly what it says on the tin. Users end up completing their booking on Google's interface instead of visiting the hotel website. This allows for the path to purchase to be shortened as it takes less clicks for the user to see the booking confirmation page. Unfortunately, this may have a knock-on effect on the overall hotel marketing strategy.
EXPOSURE
This product is currently run on a CPA (Cost-per-Action) model. Due to the nature of it, the visibility of a hotel listing is purely performance-based which may lead to reduced exposure. Looking at existing Book on Google listings, it appears that hotels running a Book on Google campaign tend to display closer to the bottom of the list.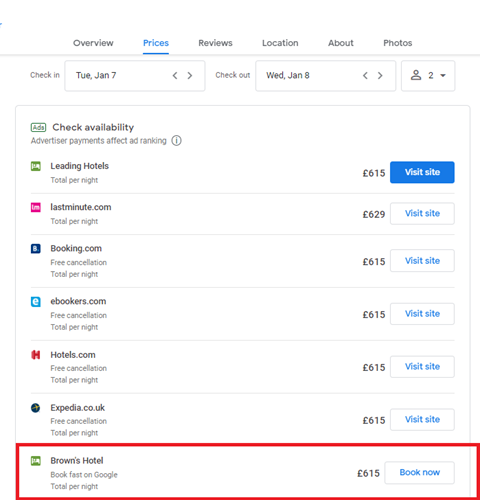 Google Hotel Ads and Book on Google campaigns could end up competing against each other in the auction. Moreover, this listing could be powered by an OTA campaign which would reduce the exposure for the hotel even more.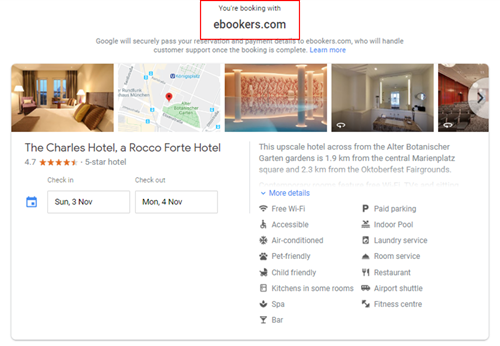 CONTROL
This lack of control is also related to the nature of a CPA model, where the advertiser has a very limited scope for influencing the campaigns in any way, whether that's the position achieved, locations targeted etc. This would all be left at Google's discretion.
WEBSITE TRAFFIC
For many hotels, driving traffic and bookings directly to the website is one of the main marketing objectives. This helps to increase brand awareness and loyalty over time. Unfortunately, Book on Google campaigns stop hotel guests from visiting the property website during their journey to book.
INSIGHTS
While the CPA model is often perceived as risk-free, there are limitations to consider. As it is fully managed by Google and only charged on a commission basis, booking information is the only data the hotel would receive. Any additional metrics, such as views, conversion rates, etc. would remain a mystery to the hotel.
OWNERSHIP OF DATA
As the booking is completed on Google, the search engine would also own the data from any transactions. From a CRM (Customer Relationship Management) perspective, it would be a missed opportunity to gain valuable insights about your customers.
RE-MARKETING
In relation to the website and booking engine traffic, while running a Book on Google campaign, the hotel would not be able to add those users to the website audiences and potentially the re-marketing lists.
CUSTOMER LIFETIME VALUE
Hotels are putting more and more effort into building a recognisable brand image amongst their competitors – increasing awareness and brand loyalty in the hope that after booking on the website once, the customer will be more inclined to book with the hotel directly in future. Book on Google does not appear to support this philosophy as a user will never visit your hotel's website, limiting brand awareness.
TRIPADVISOR'S INSTANT BOOK
Recent developments at TripAdvisor suggest that similar features may not be as profitable for the channel as expected. TripAdvisor's Instant Book product, which is comparable to what Book on Google offers (allows users to complete the booking without leaving the TripAdvisor platform), is slowly being retired. Only time will show how successful Book on Google turns out to be.
IN SUMMARY
Book on Google undeniably presents itself as an easy and risk-free solution to drive more bookings for a hotel. However, considering the points made above including the customer lifetime value, reduced visibility and website traffic, it clearly has its limitations.
Would Book on Google remove the need for hotels to run a CPC campaign with Google Hotel Ads? Undeniably, no. If anything, it only highlights the importance of metasearch campaigns on Google to combat the potential downfalls of Book on Google.
-
Unlock a vast new distribution network with hotel metasearch advertising through 80 DAYS. Showcase your hotel worldwide by placing your website rates prominently alongside the rates offered by Online Travel Agencies (OTAs) that otherwise dominate results on TripAdvisor, Google Hotel Finder, Skyscanner, Kayak and other metasearch channels.
If you would like to discuss our hotel metasearch advertising solutions, please get in touch!