A tempting trio...
Is your 2023 hotel marketing budget a little leaner than you'd like? Or, are you looking to refine your approach and experiment with more targeted offers directed at specific age groups in 2023?
Read on to discover a tempting trio of different demographics that should be on your radar for 2023...
Gen Z & Millennials
Our recent report into the hotel booking trends of Gen Z highlighted the significant growth, both in traffic (+189%) and transactions (+257%), among the 18-24 year old demographic during the pandemic. Gen Z are no longer window shoppers; they're the fastest growing demographic (+73%) in terms of hotel website conversion. They have disposable income and are ready to book travel in 3, 4 and 5 s-star hotels.
So how do you attract a younger demographic? A recent study by SITA notes that "younger travelers demand a more integrated digital journey, and the industry will be forced to respond". You can help to improve their digital journey by:
Investing in your website - think vibrant visuals, social proofing and inspirational content. 
Investing in your SEO (Search Engine Optimisation) - our research suggests that Gen Z and Millennials account for the highest percentages of organic traffic to a hotel website - but they don't always convert as highly. Again, this highlights the need for inspirational content that speaks to the needs and wants of a younger traveller, as well as a slick and easy website user experience.
Investing in your email marketing - again, Gen Z account for the highest percentage of transactions via email marketing to a hotel website, despite not accounting for the highest percentage of traffic. This represents a potentially untapped marketing opportunity - segment your database by age and tailor your marketing communications for younger audiences to see if you can drive increased conversions.
Highlighting your sustainability credentials - especially important to younger demographics, in fact 71% of Gen Z find their future to be worrisome or frightening in the context of sustainability, so provide them with a more sustainable travel option.
Highlighting your last minute availability - a recent study from Booking noted that 53% of Millennials will be planning last minute trips in 2023.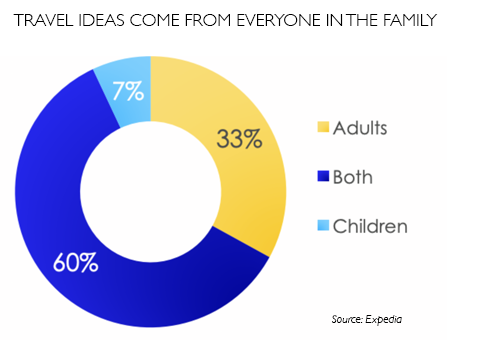 Families
Families are now travelling in the same numbers as they were pre-pandemic, accounting for 15% of travellers in the second quarter of 2022 and the appetite to travel in 2023 looks equally strong with 58% planning a trip abroad within the next 12 months.
This is a (perhaps understandably) high spending demographic too; families spend 25% more per booking on average, with just over half (51%) saying they intend to increase their spend on travel during the next 12 months.
It's important when creating content, be that on your website, social media or for email marketing campaigns, that you speak to the collective needs and wants of families; not just the adults, but the little ones too. They influence their elders when it comes to travel planning, as this chart from Expedia shows.
Perhaps most importantly, make sure you achieve the right balance of information and inspiration within your content. Our own research has suggested that typically 70% of the content on a hotel website informs, rather than inspires and with 7/10 families noting that they're open to help and inspiration when booking travel, achieving the optimal balance has never been more important.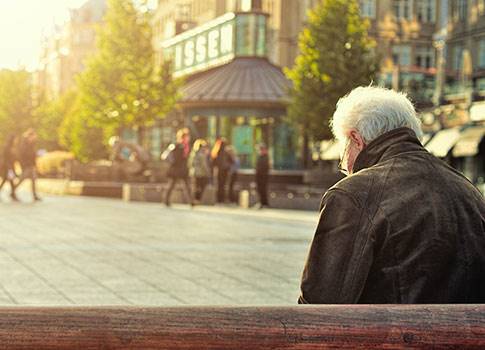 The mature demographic
Finally, with an ageing population increasingly willing and able to travel, the mature demographic should absolutely be on your radar for 2023 and beyond. Increased travel by this demographic will result in technological evolution to help facilitate travel. Indeed, SITA predicts that "We will travel longer into our old age and with more disposable income" and that by 2030 "a subsection of technology innovation will emerge designed to address the needs of the senior traveler specifically."
Our recent research into Gen Z booking trends actually highlighted some interesting behaviours among the 46-55 and 65+ demographics too.
While they're most likely to open an email marketing campaign from a hotel, they're the least likely to make a booking from that email. Although some may just prefer to pick up the phone, it does highlight a potential opportunity to embrace the 'first party future' and make use of your database to segment to personalise your email marketing campaigns with a more relevant message for each age demographic. It could certainly help to improve the conversion of a more mature audience.
We also found that the more mature demographics tend to be far more active on tablet devices than their younger counterparts. For example, tablets accounted for 17% of hotel website traffic for 65+, but just 1% of Gen Z and Millennials. Some platforms allow you to get granular with your targeting and focus on tablet devices only, by age. For these it's perhaps worth experimenting with a targeted offer to a mature demographic, delivered on tablets only, to evaluate the ROI potential.