Destination ads are destined to be a key vehicle for hoteliers in the road to recovery. In partnership with our Metasearch connectivity partner Derbysoft, 80 DAYS are able to offer our clients the opportunity to run Destination ads alongside standard Metasearch listings we have been running for years. So what is the difference between a destination ad and a standard Metasearch listing?
What are destination ads? 
Firstly, it's important to establish the distinction between standard metasearch ads and metasearch destination ads.
Metasearch ads show on a hotel listing on a platform. For example, on Google Hotel Search when we click on a specific hotel we will see a list of OTA's offering rates for this hotel, each of which are metasearch ads. As the user will only see metasearch ads after clicking on the hotel listing or searching specifically for the hotel, there can be a need to increase visibility on that listing. This is where destination ads come in. 
'Destination ads' is an umbrella term for ads that promote the visibility of the hotel on the screen prior to metasearch listing displaying, often after the user searches for a non-brand term such as 'London Hotels' or '5 star hotels near me'. All of the major channels now offer destination ads. There are different placements where this can occur, in keeping with the Google Hotel Search example above, metasearch destination ads appear as priority over other hotels on the hotel map.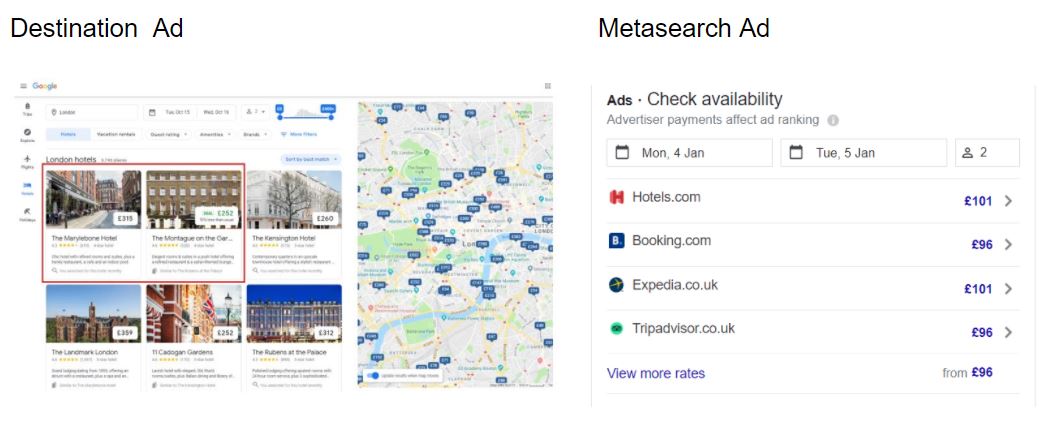 Google Property Promotion Ads
Property Promotion Ads prioritise your hotel on the Google destination search results, these are usually shown in a panel beside Google maps or as a highlighted pin on the map. They appear differently across devices. Running PPA campaigns will increase the visibility of your property and attract qualified clicks to your hotel.
TripAdvisor Sponsored Placements 
TripAdvisor Sponsored Placements puts your property in a prioritised position for users looking for places to stay in your area. These targeted ads drive highly targeted exposure for your business by appearing above Tripadvisor search results, on local competitors' pages, and on other high-profile shopping pages across all devices.
Trivago Sponsored Listings
Trivago launched a solution for hotels to boost impressions, clicks and bookings with a similar offering to that of TripAdvisor. Trivago Sponsored Listings promote the hotel by pushing your hotel to the top of Trivago destination search results page, making it the first listing on the search results page. These listings contain all the usual property information just like the usual property listing, however when the listing is sponsored it will exclusively show the advertiser's metasearch listing.
Are you interested in running metasearch destination ads for your hotel? Let's chat.