Facebook has announced that as of the end of February 2020, ad set budgets will be disappearing once and for all – to be replaced by Campaign Budget Optimisation.
While Facebook has announced this before (back in February 2019), it looks like they mean business this time round, with a warning message appearing in the main dashboard of Facebook Ads Manager earlier this year.
WHAT IS CAMPAIGN BUDGET OPTIMISATION?
Campaign budget optimisation is a way of splitting your budget over ad sets automatically, instead of giving each ad set its own budget. This gives the Facebook algorithm more freedom to split your overall budget between the ad sets that need it most, ensuring your ad shows to the right customer at the right time.
Essentially, instead of giving three ad sets within a campaign a budget of £10 each, campaign budget optimisation places an overall budget of £30 at the campaign level. Facebook's algorithm would then use this budget where needed, achieving the desired objective across ad sets for the lowest cost possible.
The below image demonstrates a campaigns performance with, and without, campaign budget optimisation enabled.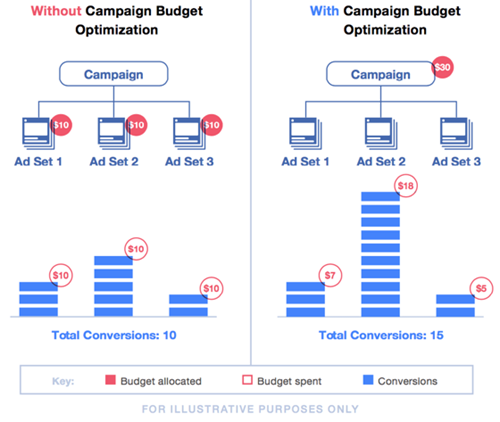 Without campaign budget optimisation, the campaign resulted in 10 conversions. But, one ad set clearly outperformed the other two. With campaign budget optimisation, Facebook distributes more of the budget to the high-performing ad set, resulting in 15 conversions overall.
WHY SHOULD YOU CARE?
When ad campaigns migrate to campaign budget optimisation, advertisers will only be able to set minimum and maximum spend limits at the ad set levels – reducing the level of control that you have over ad set budgets.
Don't worry though, once the change comes into effect, your current ad sets won't automatically switch to campaign budget optimisation. From then on however, you won't be able to add new ad sets to the campaign or create campaigns without campaign budget optimisation. If you have any specific campaigns in place that you don't want to switch to CBO, ensure you update them now while you still can.
The goal, says Facebook, is to give advertisers better results at a lower cost by distributing campaign budget based on the best performing ads, but the move takes a certain amount of control away from advertisers.
HOW WILL IT HELP?
Assuming campaign budget optimisation works (and all previous data collected by 80 DAYS suggests it does), campaign budget optimisation helps to simplify the campaign creation process.
Setting budgets can be a challenge. One of the most common struggles in digital marketing is working out how to set budgets based on the size of the audience. When you split targeting up into multiple ad sets, it then becomes an even more difficult guessing game regarding how you should appropriately split your budget.
With the introduction of campaign budget optimisation as standard across Facebook advertising, it should hopefully remove a little of the complexity in budget allocation away from advertisers and allow the algorithm more freedom to put budgets where they're needed the most.