As travel resumes and hotels reopen, the market will inevitably become saturated with wide-ranging offers and campaigns. Many will be lost amongst the noise. How do you ensure your brand gets seen?
Utilising some of the more advanced targeting options available will be absolutely key in helping to get eyes on your campaigns. Here we discuss 3 awareness campaigns your hotel should be running, in order to capture the interest of potential bookers.
Google Responsive Smart Display
Responsive display ads automatically assemble and adjust their size, appearance, and format to create an ad that is optimised to maximise clicks in just about any ad space available. Smart bidding uses machine learning and browser data which allows us to target intent signals that we couldn't have anticipated on our own.
Combine both of these tools and you have an incredibly effective method to reach new audiences and convert new bookings.
Smart Bidding
Smart bidding has obvious benefits; a human will never be able to anticipate online customer behaviour at the scale required to rival an algorithm. The robots will always win.
While display campaigns are usually considered best for awareness, responsive smart display definitely blurs the line between upper and lower funnel due to its fluid targeting capabilities. When combined with strong creatives, we have seen bounce rates 10-15% lower than those from standard display targeting.
Responsive Display Ads
Responsive display ads use machine learning differently, this time to assemble the optimal set of creative assets, ad copy, images and videos.
This allows ads to display in ad slots of any size, greatly increasing the number of possible impressions which means that smart bidding will actually be able to target those users when it matters. With mobile bookers on the rise this will become increasingly important, allowing your ads to fit in a range of placements, across multiple devices.
Metasearch Destination ads
Variations of destination ads are now available on most metasearch channels. While they are all slightly different, they have one thing in common: They provide targeted awareness, displaying to users looking for hotels in the local area and all for a relatively low CPC (Cost Per Click).
As highlighted in our recent reports, advertising focus should be focused on domestic markets in the short-medium term. Google Destination Ads provide us with a fantastic opportunity to target users at the early stage during their customer journey, meaning we can place your ads in front of those sunny staycation searchers.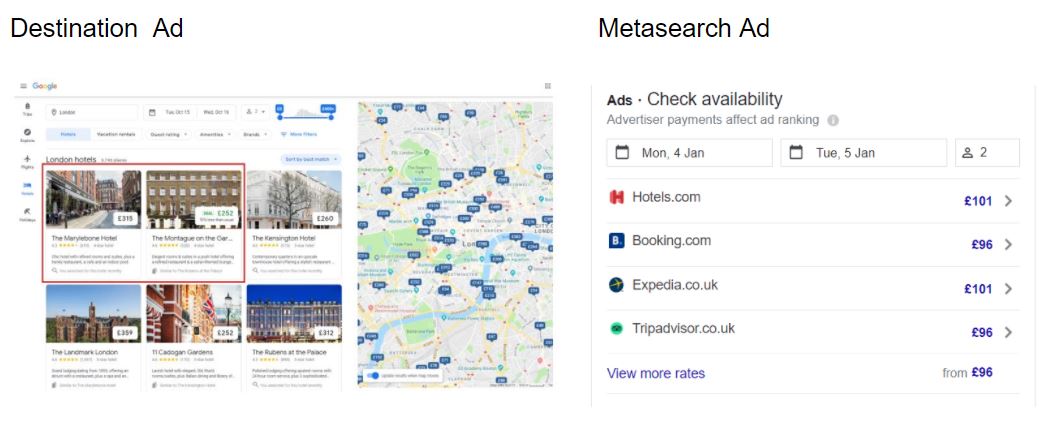 YouTube 
Youtube viewership has increased significantly throughout the Coronavirus pandemic. In fact, 81% of American adults watched YouTube in 2020!
When running awareness campaigns it is becoming a necessity to include video ads, or risk losing out on this exposure. YouTube video ads present an opportunity for effective upper funnel activity, particularly with recent improvements in smart bidding methods which can be rolled out for video campaigns. On YouTube ads, we can also target users in market for trips to hotels or a destination. Re-engaging with previous bookers on this channel is also a handy tactic.
There are endless possibilities when creating a video ad. Below we share some tips on what you should consider when editing your video, if you are making a single video to target cross-channel.
Introduce the brand and capture attention quickly - put key messages, questions and hooks upfront.
Design for sound off - express your message visually or with words with large text.
Keep it short - 15 to 30 seconds is the best fit across all channel placements.
Include a clear call-to-action at the end.
Does your hotel or travel brand need help reaching new audiences online? Let's talk.