A recent study conducted by 80 DAYS identified that hotels can see anywhere between 5-15% of their total online revenue generated via Metasearch channels. In addition to this, we identified Metasearch as the best converting channel from a hotel's online marketing mix at an average conversion rate of 2.2%. However, when we talk about these figures this is in reference to "global" Metasearch channels, and not regional, so what is the difference?
GLOBAL CHANNELS – THE 85%
Most hotels worldwide tend to focus on five metasearch channels with global reach;

85% of Metasearch traffic is made up from the big 5; Google, TripAdvisor, Trivago, Kayak and more recently, Bing. While 85% is obviously the majority, savvy marketers should be asking themselves 2 questions when they see this stat…
Where is the other 15% of traffic coming from?
How do we ensure our hotel is advertising on these channels, now we know how well Metasearch converts?
Allow us to not only answer these questions, but provide a solution!
REGIONAL CHANNELS – THE 15%
The majority of your competitors are advertising rates on the big 5 alone. The missing 15% gives you the opportunity to gain a competitive advantage, by driving direct bookings on Metasearch engines where your competition may be surrendering to OTA commission. But who and what are these channels, what regions are they popular in and do they pose any value to your hotel and its bottom line?

Regional channels are often ignored by independent hotels as well as hotel groups who focus solely on the big 5. Now, you're probably looking at the above image and thinking I've never heard of any of these Metasearch engines, is there any point in my hotel advertising on them or is it more time and effort than it's worth?
Let's take Yandex, LINE and Wego as examples;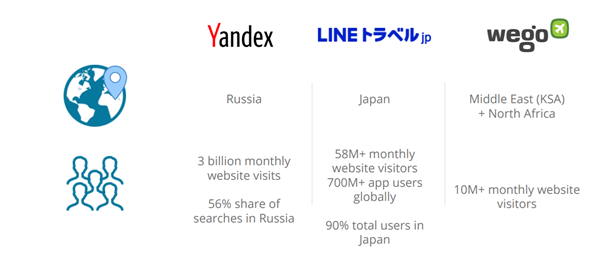 Yandex is a hugely popular search engine among users in Russia, more widely adopted than Google. The evidence of this is clear with over 3 billion monthly website visits per month, with 56% of searches coming from within Russia. Have a look in Google Analytics and at your booking reports over a year time frame, does the Russian market generate revenue for your business? The volume may be small, but a few high value direct bookings can make all the difference when it comes to your bottom line.
Similarly, LINE is a large metasearch engine in Japan, with over 700 Million app users and 58 Million monthly visitors. This is a channel that cannot be ignored.
Lastly we have Wego, a prominent Meta Engine across the Middle East, in regions like the UAE and Saudi Arabia as well as North Africa with over 10 million monthly website visitors.
The traffic levels generated by the above 3 search engines make them impossible to ignore, without even thinking of the other engines that make up the 15%.
THE SOLUTION
So, how does your hotel ensure they are displaying direct website rates on the 15%. 80 DAYS, in partnership with our Metasearch connectivity partner, offer a service that gives your hotel direct and easy access to all Metasearch channels that make up the 15%. What are the benefits of this model?
Increased exposure
Increased direct revenue
Risk free (only pay for consumed bookings)
Are you interested in ensuring your hotel does not miss out on the crucial 15%?