Going Loco for Local
From relatively nowhere 5 years ago, local search now accounts for 15 - 20% of all visits to our client's hotel websites. What do we mean by local search traffic? We consider it to be the combined number of website visitors from:
Google My Business and Bing Places for Business knowledge panels i.e., the feature that appears top right for brand name searches on Google and Bing
The Map Pack - the '4 pack' of hotels that appear at the top of the search results page for 'location hotels' type searches on Google and Bing
Google, Bing, Apple Maps and other 3rd party location sites.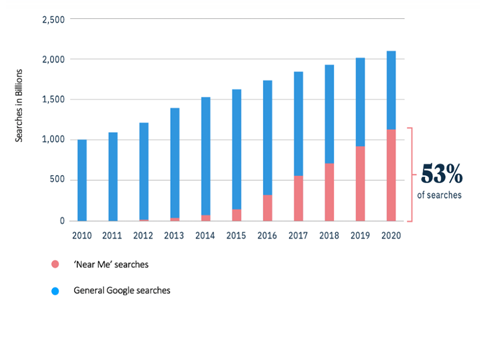 What's behind the rapid growth of local search traffic?
In a word, mobile. Our use of mobile devices to search phrases such as 'near me' and 'nearby' has increased significantly during the past 5 years.
This graph, provided by our friends at Uberall, shows just how quickly 'near me' searches have grown, now accounting for over 50% of all search traffic.
However, don't underestimate the 'lockdown effect' and the pandemic's impact upon local search behaviours.
The Lockdown Effect
The last 18 months of in, out and in-between lockdown restrictions have seen a significant rise in local search phrases used for hotels, restaurants and leisure facilities. Users have taken to searches to verify opening times, ask questions about if the gym / swimming pool etc. is open, if takeaway options are available, enquire about health and safety measures and much, much more. Many phrases show strong brand affinity and indicate a strong intent to book or visit, so it's vital to ensure that you're present and correct; appearing prominently in search engines.
We've already discussed the 3 main factors of Google's Local Search algorithm being distance, prominence, and relevance.
Here we touch on those again, adding some additional pointers on how you can increase your hotels' Local SEO performance.
10 tips to increase Hotel Local SEO
1. Ensure you have claimed and verified your Google My Business (GMB) listing.
Optimise this by adding your hotel's official address, opening hours, COVID information, amenities and a selection of high-quality photographs. It is important to ensure your hotel name, address and phone details are identical across your website, GMB and other 3rd party websites.
A top tip is to tag the URL you add to your GMB listing with some tracking so that you can directly measure your local SEO performance in Google Analytics. Google's Campaign URL Builder will allow you to tag your URL like the example below:
https://www.your-hotel.com/?utm_source=GMB&utm_medium=organic&utm_campaign=gmb-local
2. Ensure you have separate GMB listings for each part of your business.
In most cases your restaurant, spa, golf course and lounge bar, etc. can all be separately verified on Google My Business (GMB) and Bing Places allowing them to show more prominence for brand name searches. Equally all details for each business such as description, phone number, opening times, reservation URLs etc. should be detailed.
3. Encourage, engage and manage your customer reviews.
Requesting reviews in email communications, on website and social media is acceptable, just be careful not to incentivise. The total number of reviews as well as the number of management responses (to both good and bad reviews) can influence search engine rankings, especially on Google My Business.
Rather conveniently, our partnership with Uberall provides hoteliers with a headache-free single solution to help monitor, manage and respond to your guest reviews, you're welcome!
4. Grow local content on your website.
Location, location, location. While this may sound a little obvious, it's vitally important to mention where your hotel is and it's proximity to nearby attractions and events.
Not only will there be less guests wandering the streets trying to find you, but it will help increase your website's relevancy for location searches too!
5. Extend your listing information across other authority 'citation' websites.
A number of 3rd party local sites are used by Google to help verify their map data while others feed out your hotel data to other important location and navigation apps. It probably goes without saying, but having a consistent, optimised, listing on these sites will boost your local SEO.
So, as well Google My Business, it's worth checking and updating your hotel details absolutely everywhere. Bing places for business' service, OTAs, Facebook, Apple Maps, Yell etc.
Or you could save time (and your sanity) by having your listings managed centrally across 125+ online platforms and directories via our partnership with Uberall.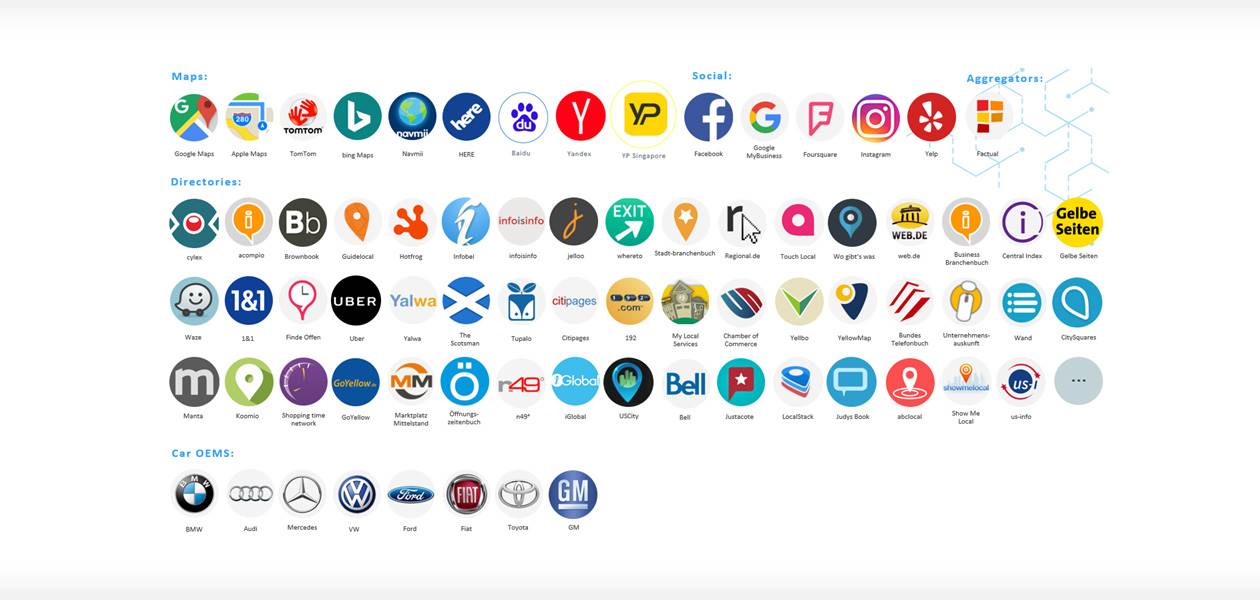 6. Use great local imagery and video.
No surprises here. Having incredible imagery and video can help page engagement, increasing customer 'dwell time' on a page. This is an important ranking factor.
7. Add Local Business Structured Data 'Schema' markup to your hotel address.
The use of Schema markup helps search engines to properly understand and categorise specific website content detail and can help to improve your local SEO performance.
8. Implement on-site SEO.
Don't forget to cover your bases and ensure that all of your website pages, including your local pages have quality content content with keyword optimised headings, well-written Page Titles and Meta Descriptions. Adding detailed 'alt' tags to the images you use on your pages will help too!
9. Ensure your pages have quick download speed.
This is true for all pages of your website, but especially your location, contact and directions pages. Faster download speeds = better for SEO. Ensure that all the images included on these pages are optimised for web and ask your website developer to ensure there are no unused snippets of code slowing things down. You can also use file compression to reduce the size of all code files.
10. Help naturally grow off-site SEO factors such as links to your website.
Essentially you need to be interesting! Become an oracle of local knowledge, feature interesting local news pieces on your social media, YouTube and website blog and importantly, measure the engagement.
Talk more about the themes that encourage more likes and comments – these often turn to off-site brand mentions and links.
Also, network with other local businesses such as niche suppliers to encourage more links back to your website. Features on reputable industry websites, local tourism and travel websites will also increase prominence and relevance so boost your local website rankings.
A simpler solution
We partner with Uberall, a leading business listing and online reputation management solution that offers easy management and optimisation of all your local listings.
This means we can distribute and synchronise your business details across numerous important local directories, GPS & navigation services, review sites and more.
Get in touch to discuss how we can help your hotel.