Tracking technologies such as Google Analytics enable hotels to gain significant insight into website visitor behaviour that with proper analysis can help strategise marketing efforts. However, in many cases essential booking engine data is ignored.
Not so at 80 DAYS, where we have developed a 'Booking Engine Insights' report that collates data from booking engines to provide in-depth customer insights.
WHAT DOES THIS REPORT DO?
Booking Engine Insights enables us to provide a wide range of recommendations and proactive strategies, from Offers & Promotions planning to building niche Online Advertising campaigns that target specific personas and customer objectives.
Setting up the necessary tracking allows for the creation of new custom audiences for targeting in Google Ads and Facebook. For example, matching specific criteria, we are able to create booker profiles such as couples and families, and targeted stay types such as weekend stays, Sunday nights and or weekday stays.
Common uses of the report include:
Identifying specific booking trends
Discovering sections of the website that contribute to bookings to potentially expand these sections and further improve conversion rates
Identifying the best times for Offers or Promos by flagging conversion rate highs and lows, e.g. for a particular length of stay or future month
Creating specific audiences to target on Google and Facebook, such as customers searching for specific dates like Christmas, Valentine's day, etc.
HOW FAR IN ADVANCE DO MY GUESTS LOOK TO BOOK THEIR STAY?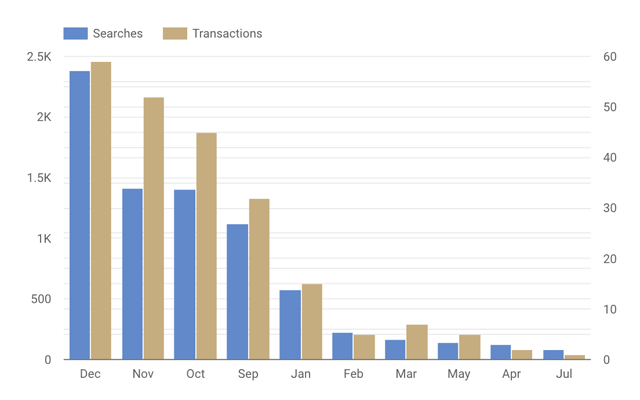 The Booking Window section of the report shows how many days or weeks in advance guests search for their stay.
In these extraordinary times it is especially important to keep track of search trends. This section of the report allows you to identify if specific audience search types require further analysis.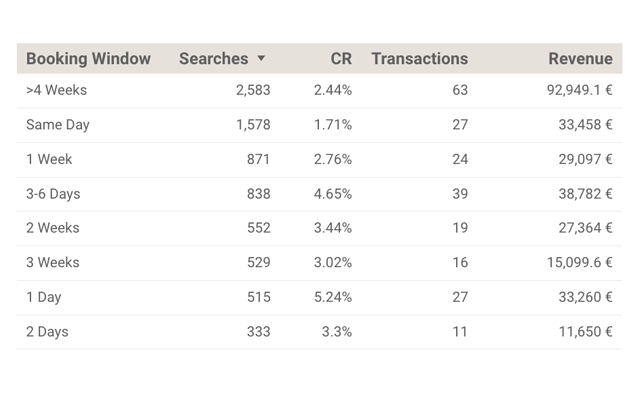 In this example, it is clear that bookers are more likely to book a stay that is more than 4 weeks away. This could be due to cancellation fears, or a lack of incentive, such as a tailored offer.
The Booking Length section, that details the length of customer stays in days or weeks allows for further insight into what audiences or offers are showing a high conversion rate and therefore should be retargeted.
WHEN ARE MY GUESTS LOOKING TO STAY?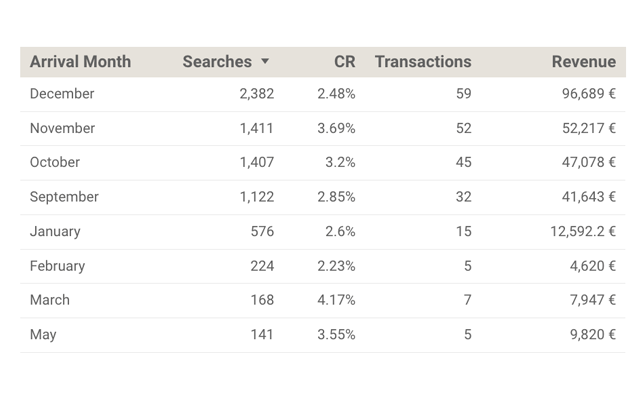 The Arrival Month and Stay Type sections can be powerful for both analysis as well as discovering retargeting opportunities.
A month or time of the week may have a high number of searches, but a low conversion rate. This presents an opportunity to consider retargeting such customers with an incentive, offer or promotion to help aid conversion.
WHAT TYPES OF USERS ARE LOOKING TO STAY AT MY HOTEL?

The Booker Type section gives insight to the type of booker that is looking to stay at the hotel.

Other than retargeting insight, this report can also highlight possible missing sections on a website. Taking the example of Families, it could be that an incentive for a family booking is missing from the website. A tailored offer, a page on family activities or a page describing how your hotel is family friendly could then be considered.
HOW IS THE REPORT SET UP AND WILL IT WORK WITH MY BOOKING ENGINE?
The report uses Google Analytics and Google Tag Manager to collect data from your website and booking engine. No personally identifiable information is collected so it's fully GDPR compliant.
We have already successfully integrated our report with SynXis, Avvio, AZDS, TravelClick and Witbooking.
Would you like to hear more? Get in touch to discuss your hotel reporting needs.