A growing trend within digital marketing for the hotel industry, metasearch advertising has seen an especially rapid rise during the last 12 months. For many 80 DAYS clients it now contributes up to 15% of their total online revenue.
As we move into the second half of 2019, we've taken a moment to reflect upon the continuing growth of metasearch, the reasons behind this and the future opportunities for hotels to take further advantage of this channel to grow their direct bookings.
If you're unfamiliar with the term metasearch, we've included a brief introduction below. If you're already familiar with metasearch feel free to skip ahead to the results and updates section.
WHAT IS HOTEL METASEARCH?
Quite simply, hotel metasearch refers to aggregate comparison websites that show hotel's prices and availability in real-time.
The big players in this field are Google Hotel Ads (which feature in Google's search results) and TripAdvisor, but other sites such Trivago, Kayak, Skyscanner and WeGo are some of the other sites within the metasearch marketplace.
Each site pulls in price feeds from a variety of sources, showing users the "best" place to book their hotel, with advertisers paying for placement and encouraging users to book their hotel stay via their platform.
These advertisers, of course, include the big OTAs (Booking.com & Expedia), as well as a range of other OTAs & booking sites (e.g. amoma.com, trip.com, etc.)… you even get metasearch sites advertising on other metasearch sites! TripAdvisor often appears in Google Hotel Ads results, for example.
There is also the opportunity for hoteliers, with the right technical setup, to share their own pricing and availability, promoting your own booking engine to encourage direct bookings.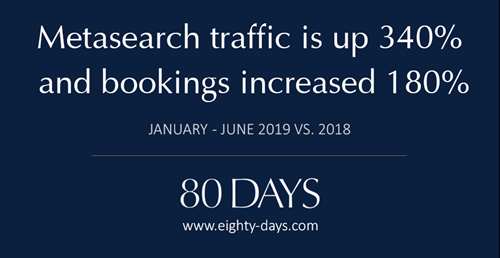 THE RESULTS & THE TREND
Over the course of the last year, we have seen some significant changes to hotel metasearch advertising and a strong growth in results from these sites.
For the first 6 months of 2019, 80 DAYS' metasearch clients saw a 340% increase in website sessions and 180% increase in revenue year-on-year, with a return on investment typically around 10:1.
After Google launch a new layout for hotel search results in October 2018, we've also observed Google's share of the bookings increase from 57% to 67% of all metasearch bookings.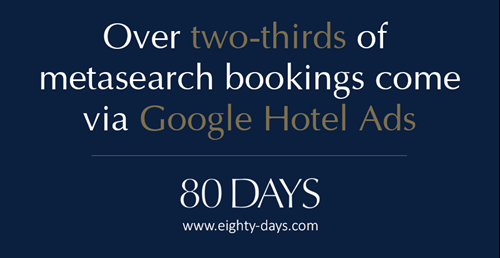 The 80 DAYS team also analysed the value of various traffic sources and found that, in general, metasearch is the most valuable source of traffic to a hotel website. In fact, metasearch is even more valuable than Brand PPC (which surprised even us!).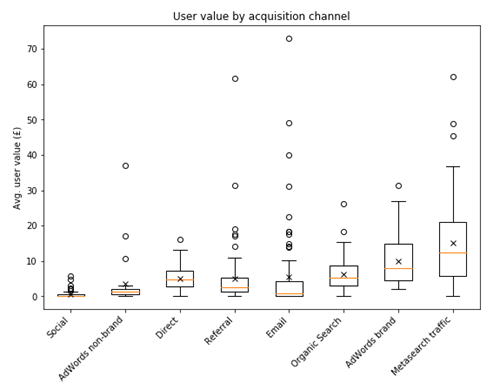 This really illustrates the rise of metasearch and how it should feature as a core element of a hotel's online advertising mix.
WHAT ELSE?
Of course, metasearch as a channel continues to grow, with new innovations and opportunities launching all the time.
Most recently, we've seen Google integrating their Hotel Ads with the more traditional Google Ads; this allows advertisers to start viewing all Google Advertising in a single place, and to channel budget to the best performing elements. Of course, the management of Hotel Ads still requires a connectivity solution alongside control of features such as Audience lists to better optimise Hotel Ads campaigns.
And not to be completely left behind, Bing also launched their metasearch solution in 2018, with access for independent hotels slowly rolling out. While Bing in unlikely to drive the same volume of traffic and revenue as the big G, it does make sense to protect your brand and increase awareness in this space, particularly if the US is a key market for your hotel.
HOW TO GET YOUR HOTEL WEBSITE LISTED ON METASEARCH SITES LIKE GOOGLE, TRIPADVISOR AND TRIVAGO?
So, having now learned that metasearch is a very valuable and growing source of direct bookings for hotels, you are all set for listing your hotel on Google Hotel Ads, TripAdvisor, Trivago and beyond.
In order to do so, you will need to be able to establish a connection between your Central Reservations System (CRS) and the metasearch sites, as well as providing the metasearch channels with deep-links for connecting users through to the correct availability results within your online booking engine. Then you will also need to set your advertising strategy – defining target audiences and setting your advertising bidding to be competitive enough to gain sufficient exposure.
The good news is that 80 DAYS' metasearch solution combines all of these elements, offering a fully managed service of connectivity, campaign management and ongoing optimisation.
If you're interested in learning more about the potential of metasearch to drive more direct bookings for your hotel, please do get in touch.