Writers block. Creative slowdown. Infuriating head scratching accompanied by the making of endless 'procrastination coffees'. Sound familiar? 
Writing content is not easy. Writing great content, even more challenging. In this post, our Head of Copy, Alan, shares 5 simple tips to help improve your writing. Because he's nice like that.
"THE FIRST DRAFT OF ANYTHING IS SH*T"
Ernest Hemingway
-
Start by just getting your thoughts down.
This won't be your final draft, but it's a good starting point. Then leave it alone for a while. Walk away. Have a coffee, go and annoy one of your colleagues.
When you come back, read it again. Read it out loud. You'll be amazed at the things you notice.
Make your changes, then do the same again. And keep doing this until you have something you're really proud of.
Then maybe do it once more, just to be sure...
"I APOLOGISE FOR SUCH A LONG LETTER – I DIDN'T HAVE TIME TO WRITE A SHORT ONE"
Mark Twain
-
Attention spans are constantly shrinking. Now more than ever, people want their content short and digestible. So don't use a long word when a short one will do. Don't use 10 words when you can say it in three.
Read what you've written and ask yourself, what could I take out? Is that sentence really necessary? Will that paragraph send people to sleep? Only keep the parts you really need.
Everything else, delete delete delete...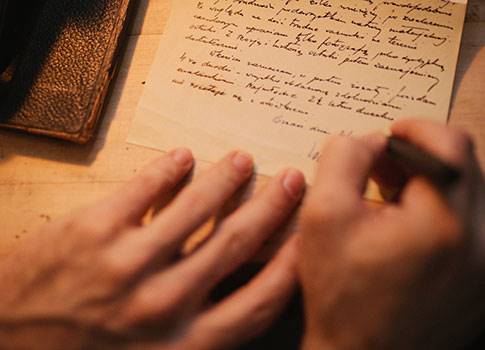 "GOOD COPY SOUNDS LIKE A LETTER TO AN OLD FRIEND"
Someone wise
-
Don't try and be too clever.
Don't use words you wouldn't use in conversation. Always write how you would speak. And adjust this accordingly, depending on your audience.
Who are you talking to? How much time have they got? What's important to them? Use these questions to focus and simplify your language.
Always remember, good writing is accessible to everyone.
"THE KEY TO SUCCESS IS CONSISTENCY AND CAKE"
David Oragui
-
Okay maybe he didn't say the cake part...
Consistency in writing is everything. The more consistent we are, the more likely it is that people will understand what makes us, us.
A consistent verbal identity leads to respect, trust and brand recognition. (And hopefully lots of new shiny customers). So don't go too far off-piste.
Always ask yourself, does this sound like it's coming from our brand?
If it does, good job. Reward yourself with some cake.
"SIMPLICITY IS THE ULTIMATE SOPHISTICATION"

Leonardo Da Vinci
-
Finally, perhaps the most important tip of all – keep it simple.
Be clear about what it is you want to say and stick to it. Get to the point quickly, and make it interesting.
If you're not sure, a good test is the mum test. If she can't understand it, then it's probably too complicated.
Still stuck? We write words.