80 DAYS are delighted to announce it's helping cyclist Mark Beaumont in a record breaking attempt to pedal around the world – in 80 days.
The inspirational athlete is hoping to smash the current record by an astonishing 43 days in his latest challenge, the Artemis World Cycle.
As a warm up Mark will first cycle 3,500 miles around the coastline of Britain, leaving on Tuesday April 4.
Mark, who is best known for cycling around the world in 194 days in 2008, will start his 18,000-mile Record Breaking adventure, from Paris on Sunday 2 July.
To become the first cyclist to circumnavigate the world in 80 days he will need to spend 16 hours in the saddle, covering a total of 240 miles each day.
80 DAYS have created a website for Mark's ground-breaking challenge, and using highly sophisticated technology, have built in unique apps which means that every moment of his journey is streamed live through our site.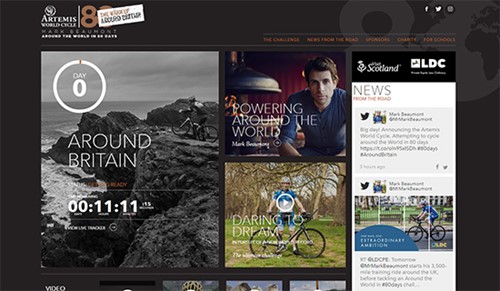 This way the world can keep up to speed with Mark's progress in an adventure that will see him redefine the limits of human endurance.
As a leading digital marketing agency with a team of highly skilled experts, we were the ideal fit for Mark and his team – and our company name tied in rather nicely too!
Mark Forrester, Chairman of 80 DAYS said:
"We are delighted to be helping with this inspirational Record Breaking quest.
"The website we've built for the challenge means that people across the globe can interact with Mark's adventure as he powers his way around the world."
As part of his mission to break the current world record of 123 days, set by New Zealand's Andrew Nicholson, the Scottish adventurer is raising funds for Orkidstudio, which works to benefit communities worldwide through innovative architecture and construction.
The journey will also be tracked through Twinkl, a global educational platform for primary schools.
The British long-distance athlete and broadcaster had this to say:
"This is the culmination of the past two decades, since I was a 12-year-old boy cycling across Scotland,"
"I would love for this journey to give people the confidence to take on what they are capable, for young people in particular to stop and to think 'what's my 80 days'?"
"I want to redefine the limits of human endurance by proving what seems impossible really is possible."