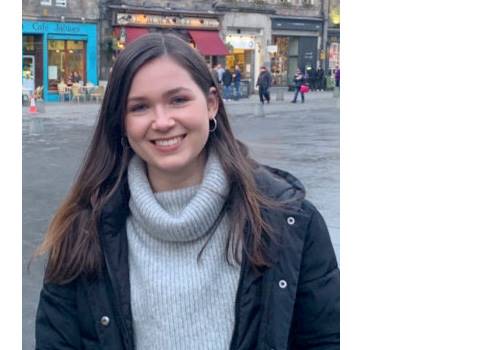 At 80 DAYS we place a lot of value upon training and continuous learning; it's part of the reason we maintained our Investors In People Gold award last year. Understandably, we work with a number of local universities to offer internships and student placements on a reciprocal basis; we hope to learn new ideas from bright young minds and in turn, share our knowledge and experience too.
We sat down with Kirsty Soutar, a recent intern from Heriot-Watt University, to hear her thoughts on a 10-week internship at 80 DAYS.
Tell us a little bit about yourself…
I'm Kirsty, an International Business Student at Heriot-Watt University and I'm just about to complete my fourth and final year. I was born and raised in Hong Kong, but my family are originally from Glasgow and I love dogs, singing, dancing and living in Edinburgh.
How did you hear about the internship at 80 DAYS?
I came across the internship through my careers service at University and I also had a guest lecturer who came in to speak about digital marketing and his experience working at 80 DAYS. I had many different signs along the way that suggested I go for the internship, so it was obviously meant to be!
What have been some of the highlights of your internship so far?
Getting to know everyone at 80 DAYS was definitely a highlight for me, either through the monthly socials or different tasks that I helped people with. Everyone has been so patient and friendly towards me and I've really enjoyed learning many different skills throughout my 10 weeks here.
I've also really enjoyed working in a company that is fun and social, whilst still being hardworking. Friday pay day treats weren't too bad either!
What skills do you think you'll take away from your internship?
I have learnt an incredible amount during my time here. I gained my Google Analytics Individual Qualification and Google Ads Certification, I've greatly improved my reporting and data analysis skills – shout out to Joanna for spending an entire day helping me to create client reports! I've also improved my commercial awareness, time management, interpersonal skills and learnt how to be more independent, reliable and confident in the workplace. Overall, I believe I've gained significant experience and transferable skills that I'll be able to use in many future situations, both in and out of the workplace.
Can you sum up your experience in 3 words?
This is so hard! If I had to choose, firstly, Fun because I really have enjoyed myself here at 80 DAYS despite working through the summer! Secondly, Insightful, as I feel as though I have come away with an incredible amount of skills and knowledge, not only surrounding digital marketing. Finally, my last word is Friendly; I'd like to thank everyone at 80 DAYS, particularly the digital team, for being so welcoming and treating me as a member of the team from day one, I couldn't have asked for a better internship experience.
OPPORTUNITIES AT 80 DAYS
If you're interested in discovering more about working at 80 DAYS, please take a look at the careers section of our website and our current opportunities. We advertise internships through local universities in Edinburgh, so please speak to the person responsible for internships and placements at your respective university.