80 DAYS (then Occupancy Marketing) is proud to announce that our client, Dormy House Hotel has won the Hotel Marketing Association award for Best Hotel Website & SEO Marketing 2014.
The award has capped a fantastic year working with the Dormy House Hotel in the Cotswolds, which was refurbished at the end of 2013, with a new website designed by One Ltd. also launched as part of this process. Since then, Occupancy Marketing has worked with the hotel's marketing team to develop a successful online marketing strategy.
The results have been exceptional with impressive increases in visits to the website and, most importantly, direct bookings. Visits to the hotel's website increased year on year by over 200%, with the ecommerce conversion rate similarly increasing by over 250%.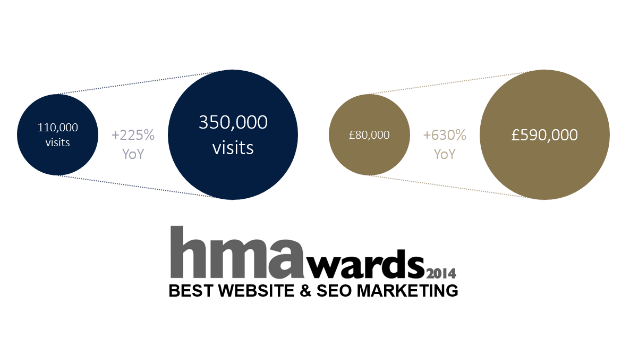 Ellie Jones, Marketing Manager of Dormy House Hotel, highlights that it is the combination of an excellent website experience and SEO strategy that has driven the hotel's impressive results:
We like to say that we take our business very seriously, but not ourselves.
Vibrant "hero" pictures and humorous copy make our website friendly and accessible, but there is constant work behind the scenes on SEO, ensuring that Dormy House has a top rankings on Google and other search engines when people search for terms like "luxury spa hotel Cotswolds."   
The Dormy House Hotel truly is a fantastic hotel; we are incredibly proud to have the opportunity to work with a hotel of such high calibre, and congratulate them again on this award win.