With a regional lockdown planned for England and restrictions already in place for devolved governments, most hotels are having to quickly rethink their approach to online marketing and digital presence.
In uncertain times, it's crucial to draw on our experiences since the start of the pandemic. Here we summarise the most important learnings from the first lockdown along with some key recommendations for the coming weeks.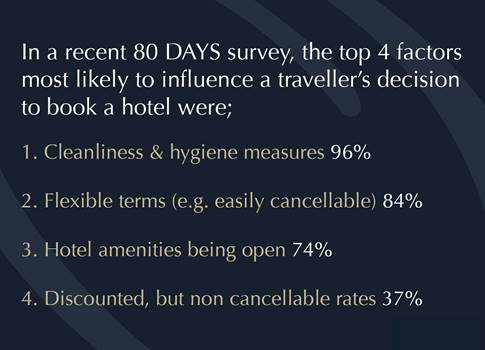 KEY LEARNINGS – SPRING / SUMMER 2020
The key learning to be taken from the previous lockdown is that the "hotels and resorts that maintained marketing communications with their customers recovered faster and stronger than those that didn't."
In addition we learned that the optimal time to start marketing a hotel's reopening is four weeks in advance. So, with the upcoming lockdown set to last for a month this reinforces the message to adjust your marketing communications, but not to stop them.
When it comes to the specifics of communication, the key learnings are:
Targeted marketing activities are essential. More than ever before, there are noticeable behavioural differences between demographics and regions.
Flexibility is more important than price, with bookers paying more for the freedom to cancel or change a reservation.
A hotel's food and drink offering is the top influencing factor, aside from location, when it comes to considering a booking.
Parking facilities are one of the key features sought when choosing hotel with most travellers favouring private transport (i.e. the car).
High cleanliness standards are expected from a luxury hotel. Hygiene and safety are vital supporting messages, but they shouldn't get in the way of the brand message.
Bookings are extremely last minute with a high percentage of guest arriving just days after making a booking. Agility is therefore key to marketing plans.
The most effective communications were those that simply informed the reader rather than sold to them, particularly in the earliest stages of lockdown.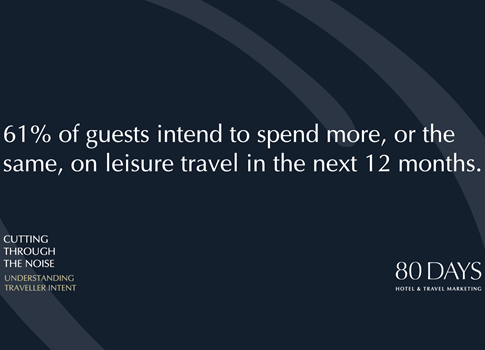 ADAPTING YOUR MARKETING ACTIVITY
Below are our core recommendations for responding to the second lockdown in terms of marketing activities:
Be clear and positive. Keep customers updated with clear messaging about your closures but aim to remain positive and reassuring about re-opening soon. Ensure this message and the details of any changes are updated across as many channels as possible: your website, social media, Google My Business listings, etc.
Consider temporary measures. You may wish to temporarily pull back on "brand awareness" advertising campaigns at the start of November but be prepared to update and re-launch these campaigns later in the month to target those customers who are continuing to make plans.
Think local. Your local market is likely to be the first to return, so adjust your targeting to prioritise local and loyal markets. Use marketing channels such as your CRM/newsletter, social media and search advertising to continuing reaching out to these audiences.
Focus on the festive. Tailor your offering, content and marketing messages around the festive season. For example, family meetups, escapist breaks and gift vouchers are three areas we still see great potential for leveraging over the festive period.
Keep an eye on the trends. As we saw earlier in the year, the situation can change suddenly and rapidly, so it is important to keep a close track of what is happening.
STAY INFORMED, STAY POSITIVE
Tools such as Google Trends and Hotel Benchmark provide an up-to-date view of online consumer demand alongside industry trends. 
In closing, the vast majority of the UK have not yet made firm plans for the festive holidays and will not stop researching and planning during this lockdown period. A recent survey conducted by 80 DAYS suggests that 99% of travellers hoped to travel in 2020/21. When consumers regain the confidence to book, we expect to see a surge in demand.