Meta-search & rescue
If you're not already familiar with it, hotel metasearch advertising can be a daunting channel to approach anew. We're here to help translate the jargon, so that you can reap the benefits.
This growing channel allows you to drive direct bookings at lower equivalent commissions and compete directly with OTAs (Online Travel Agents). If it isn't already, metasearch should be a key element of your hotel's digital strategy in 2023 to help rescue some of that painfully-paid commission.
What is Metasearch for Hotels?
Simply put, it's an advertising channel that collects all available online rates for your hotel - including your own - and organises them into a list. This makes it easy for travellers to compare prices for your hotel across all booking channels.
By connecting your hotel's CRS (Central Reservation System) to major and regional metasearch channels, we can help you to show live room rates across Google, TripAdvisor, Trivago and more. As advertisers, we compete for visibility and rankings in the resulting auctions, driving potential guests from metasearch engines directly to your hotel room - ideal!
This form of advertising streamlines the booking journey for potential guests, whilst placing your 'Official Website' brand directly alongside the budget-busting OTAs, who are competing to win your brand clicks.
Where Does Metasearch Show?
On Google, metasearch shows on your Google Business Profile with Google Free Business Listings (organic metasearch) showing below this. Your own rate is marked with 'Official Website' to help differentiate it from OTAs.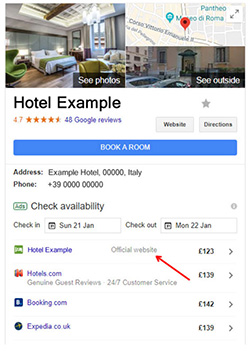 On TripAdvisor, hotel metasearch is shown below the room search of your hotel listing. By clicking 'View all deals' you can see all available metasearch rates.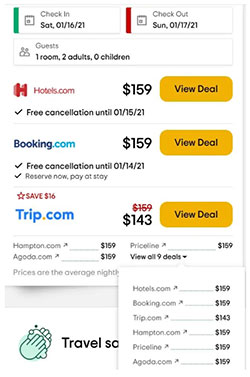 Metasearch rates on Trivago are shown under the 'Deals' section of your hotel's listing. Rates provided directly from your website are marked with a blue tick accompanied by 'Hotel site' to help users distinguish it from OTAs.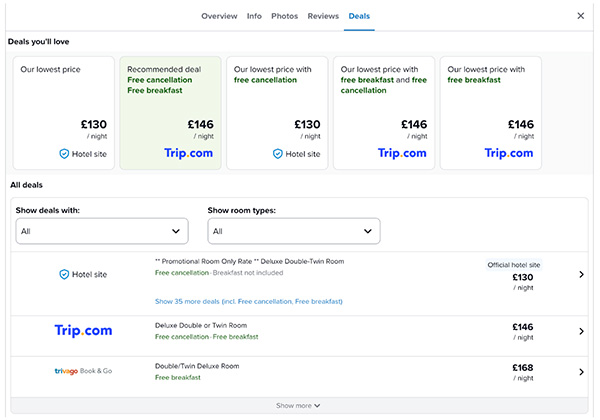 What Are the Benefits of Hotel Metasearch?
Lots and lots of direct bookings. As a bottom-of-the-funnel tool, advertising on metasearch exposes your hotel to traffic who are ready to book and are actively searching for your brand. This ultimately leads to high conversion rates, resulting in 60% of independent hoteliers rating it as the most effective marketing channel.
Being active and successful on metasearch helps you protect your brand position whilst driving more traffic to your website and generating more revenue from your booking engine. It's a bit like the lottery, you can't win if you don't enter.
Our aim is pretty simple; to help you secure room bookings at a lower equivalent commission than you are paying to an OTA. Metasearch is a key method of achieving exactly this. It allows us to drive direct booking opportunities and in turn, grow your direct revenue share (whilst reducing your reliance on OTAs) with a strong ROI.
Plus, you get the added benefit of the clicks, impressions and auction insights that the channel drives, along with building your guest database and promoting brand loyalty.
What's not to love?
When Should I Start Running Metasearch?
The unfortunate truth is, if you're not already running metasearch, you're already behind your competitors and OTAs. Metasearch is becoming more productive and profitable than ever as the channel continues to grow, bidding algorithms develop and more placements become available.
Research carried out by our partners Derbysoft shows that total travel demand in 2022 seriously outpaced 2019.
EMEA Travel Demand 2022 vs. 2019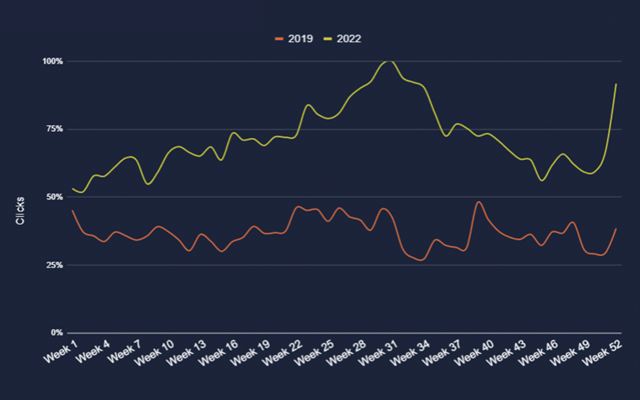 Worldwide Travel Demand 2022 vs. 2019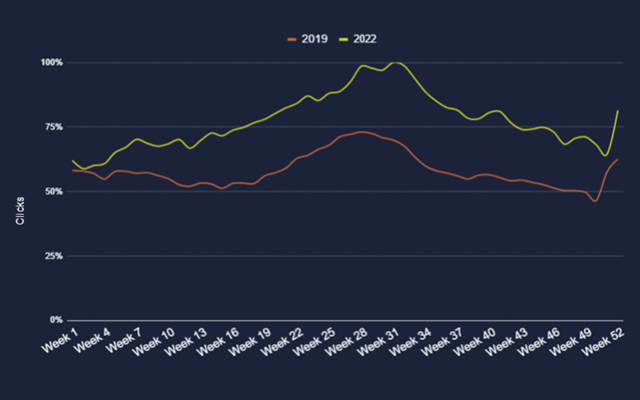 How Does Metasearch Compare to Paid Search?
You may think that you're covered by only running paid search or metasearch but you really should be utilising both channels as customers are making use of both search and metasearch engines. By doing so, you'll cover more real estate on your brand's SERP (Search Engine Results Pages).
What are the differences? Well, metasearch lets you bid for specific check-in dates, booking windows and length of stays, which paid search can't do. Whereas, paid search allows you to use keyword targeting, something that metasearch can't do.
The bottom line is that you need to include both metasearch and paid search in your digital strategy to cover all the bases; PPC is essential for protecting your brand position and raising awareness while metasearch allows you to compete directly when users are ready to make that all-important booking.
How Do I Start Running Metasearch?
Rather conveniently, we offer a fully managed hotel metasearch solution, working with our established connectivity partner DerbySoft. We work together to implement your hotel across the main metasearch channels, set up and optimise your campaigns and provide you with a monthly performance report.
We work closely with our clients to identify key opportunities for improvement to ensure you're getting the most out of your advertising budget and this ever-growing channel.
Ready to make the most of metasearch? Contact our team today!