EDINBURGH, December 9th, 2020 – Digital and creative marketing agency 80 DAYS present findings from a study into the distribution patterns of independent hotels during the global Coronavirus pandemic.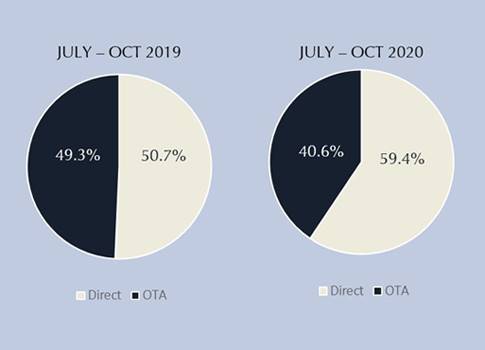 A new study into the online distribution of independent hotels has unearthed an apparent shift in the purchasing behaviour of guests during 2020.
80 DAYS analysed the performance of 67 four and five-star independent hotels, comparing July – October 2019 with July – October 2020.
In 2019, pre-pandemic, hoteliers reported a close to even distribution of 49:51 between OTAs and Direct. Around half of bookings originated on OTAs, with the remainder directly from the hotel's official website.
This has shifted significantly in 2020 and now stands at 41:59, OTAs and Direct, representing a 17% gain in direct bookings for hoteliers.
OTAs retrenched during the height of the pandemic, ceasing to bid on hotel brands in paid advertising for first time in living memory.
In addition, with ongoing disruption in travel planning and hoteliers offering flexible terms, consumers may well be more confident to book direct on the official hotel website.
This distribution shift has been observed by a number of leading independent hoteliers.
Mark Forrester, Chairman of 80 DAYS, notes;
"It's really heartening to see this positive trend emerge from what has been an extremely challenging year for hospitality. Now is the time to capitalise on this distribution shift, invest in your direct channels and maintain the momentum into 2021 and beyond."
With a clear pattern emerging, the challenge for hoteliers will be in both maintaining and growing this change in distribution and guest booking behaviour.
Budgetary investment in digital marketing and online advertising may help to redress the balance more permanently while significantly reducing distribution costs.
In addition, it would be pertinent to make the most of any potential downtime to review content and messaging as well as 'Book Direct' benefits and incentives.
Continually engaging with guests, even while travel restrictions are in place, will be key to a hotelier's success over the next 3-6 months. An earlier study by 80 DAYS found that those who maintained marketing activity during the early stages of the pandemic observed a far less significant drop in traffic than those who reduced or stopped their marketing activity altogether.
– ENDS –
For further information please contact:
-
About 80 DAYS
80 DAYS is a premium hotel and travel marketing agency working in partnership with over 500 of the world's most respected hotel and travel businesses.
If you'd like to reclaim direct bookings for your hotel, we'd love to hear from you.