August 2019 saw the launch of a 'Hotel Attributes' section within Google My Business (GMB). The launch of this new section has greatly expanded the tools that hoteliers have at their disposal to influence the way their information is displayed across the Google ecosystem.
The first indication that this change was on the horizon occurred when Google stopped the ability of newly verified GMB locations from selecting certain primary categories towards the end of July 2019. Google then proceeded to remove specific hotel related categories from already verified GMB listings on the 6th August. Google has claimed that the reason that they have removed these categories was due to lack of use.
Removed categories:
Airport Hotel
Boutique Hotel
Budget Hotel
Business Hotel
Castle Hotel
Conference Hotel
Family Hotel
Luxury Hotel
Beach Resort
Golf Resort
Spa Resort
Available categories:
Hotel
Capsule Hotel
Extended Stay Hotel
Hot Spring Hotel
Love Hotel
Wellness Hotel
Resort
Health Resort
Ski Resort
Nudist Resort
WHAT DOES THIS MEAN FOR HOTELS?
If a GMB listing has a primary category marked as 'Hotel', or a hotel related category, it will have access to the new 'Hotel Attributes' section within the GMB dashboard. This section appears when you click a new link called 'Hotel Attributes' on the Info tab, underneath 'Services' and above 'Opening Date'.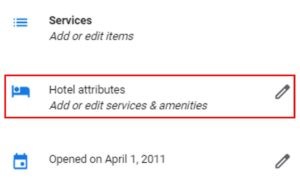 Many amenities, such as Wi-Fi and Air Conditioning, along with several others, are now listed twice, both in the old 'Services' section and in the new 'Hotel Attributes' section. Indeed, the initial settings in 'Hotel Attributes' appear to be carried over from the settings in old 'Services'. However, in the new Wi-Fi section, for example, there are many options that didn't exist before. As it currently stands attributes have increased for a hotel from 37 to over 160.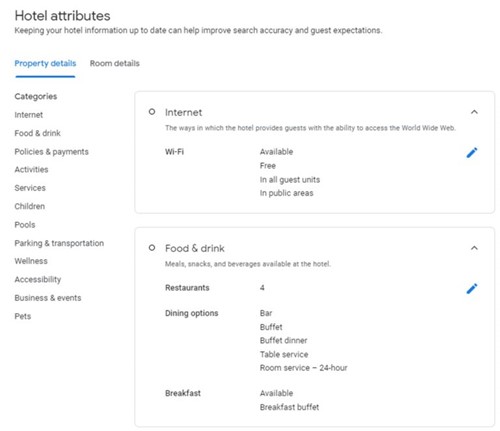 WHY THIS CHANGE?
Here at 80 DAYS we believe there is a number of elements driving this change in GMB interface.
Part of what is driving this change is the ever increasing number of zero click searches, where users are finding the information they require without requiring a click to the website.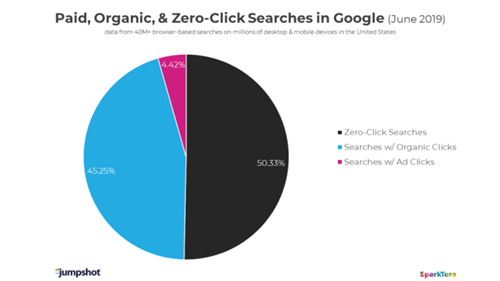 Google is also providing more and more information directly in the SERPs which is only going to influence the trend of zero click searches further.
Within a hotel context this illustrates the rapidly growing expansion of metasearch and the increasing revenue that this service drives. 80 DAYS' metasearch solution combines all of these elements, offering a fully managed service of connectivity, campaign management and ongoing optimisation to drive results.
The launch of Google Travel in May 2019 – combining Google Trips, Google Flights, Google's hotel searches and more under one umbrella – will also have influenced Google's decision to considerably expand the resources available to hotels within Google My Business to help enhance the user experience of travellers.
WHAT'S NEXT?
Google's ironing out a few bugs with the system. One such bug appearing within Asia, for a short period of time, was that the category 'Hotel' was not recognised as a valid category.
Our local search team at 80 DAYS has also been seeing a similar error appear for hotels located in Ireland and the United Kingdom in relation to the 'Spa' and 'Spa Resorts' categories. However these errors have been reducing daily and should be fully resolved in the near future.
Google has also released developer documentation to go along with this expansion. Here at 80 DAYS we look forward to this functionality being added into version 4.5 of the API which will allow us to further expand the GMB reports that we share with our client.
IN SUMMARY
As Google continues to develop and expand their platform the importance of having a strong local SEO strategy in place is becoming increasingly important. Local search puts a focus on promoting the physical location of your businesses. This improves the experience for customers trying to find you and helps to increase your business viability across the digital world.
Well optimised local search profiles give your business the competitive edge to help it stand out in a crowded marketplace. This can only happen through a process of careful auditing and comprehensive optimisation of your key listings, building high quality backlinks through citations, cleansing your digital data and ensuring NAP (Name, Address, Postcode) consistency.
On average a business' local listing provides around 15% of total website traffic. The 80 DAYS local search service optimises your listing and increases this proportion whilst also enhancing metasearch bookings and 
If you'd like support with your hotel's local search performance, please get in touch!