Hospitality – 'the friendly and generous reception and entertainment of guests', according to the Oxford English dictionary.
Synonymous with warm welcomes, 'good hospitality' has inherently been the product of human interaction – from the Concierge welcoming a guest upon arrival right through to the General Manager wishing them a pleasant onward journey when they leave.
Consequently, hospitality and technology have long been awkward bedfellows. Whereas other industries have been able to incorporate the automation of tasks with relative ease, hospitality has lagged a little behind. How can technology replace the intuitive 'feel' a front of house manager has when handling an unhappy guest? And why replace 'face to face' time with technology?
Valid concerns, yes, but the pace of technology growth during the last 5 years is testament to the demand for evolution within the industry. We've probably all read the stat that there was 150 marketing technology companies in 2011, rocketing to 3,500 by 2016. Hotel marketers and front of house teams who are adopting this new technology are finding efficiency and process improvement through marketing automation. But what do we mean by marketing automation?
"Marketing automation is a category of technology that allows companies to streamline, automate, and measure marketing tasks and workflows, so they can increase operational efficiency and grow revenue faster." (source: Marketo)
This may not sound like a natural fit for luxury hospitality and travel businesses where the onus is to provide truly unique experiences. However, if we agree and acknowledge that technology will never replace the true essence of hospitality, can we consider how it could complement it?
In this post we discuss some of the new and emerging opportunities that exist to help automate the routine tasks, and focus on the delivery of exceptional guest experiences.
CHATBOTS, AI, HOTEL OPERATIONS, SELF CHECK IN & MORE!
Hotel Chatbots & Artificial Intelligence (AI)
Talk of the town at many a hospitality conference, hotel chatbots have evolved from fad to 'conversational commerce' in just two short years. Guests are increasingly time sensitive, not content with waiting on hold to speak to a reservations team, especially when there's an OTA (Online Travel Agent) all too willing to answer their question in real time. Immediacy is no longer a luxury, it's expected, and those hoteliers who can respond fastest may well capture the direct booking.
The success of automating your communications with chatbots could rest upon the following three elements;
Delivery. The old adage of under promise over deliver is especially relevant here. Don't stretch your team over a multitude of different communication platforms and automate where you can. Chatbots may well be able to handle the more common enquiries and if there's a real person on standby for those enquiries the bot's unable to handle then guests have the best of both worlds.
Be where your guests are. Don't go it alone with your own messaging app. Endeavour to find something that integrates with Facebook Messenger, WeChat, WhatsApp, Skype Messenger etc. Forcing your guests to download an app to use your chatbot is likely to reduce the adoption rate, defeating the objective of its introduction.
Add value. Automating your communications has an obvious resource value to you, but make sure that guests perceive some value too. A chatbot that can help answer booking FAQ's 24/7 will undoubtedly be helpful for guests booking outside of your reservation team's opening hours. Or how about a chatbot that can recommend local events for a last minute weekend stay?
When it comes to human involvement, make sure that you manage your guest's expectation on when they'll receive a response from you. Some hoteliers are even committing to specific response times. CitizenM advertise on their website that sending them an email gets you an answer within 24 hours, Facebook enquiry – 1 hour, WhatsApp – 1 hour etc. If you have the infrastructure to make that promise to a potential guest, why not?
Hotel Operations Automation
Hotel staff are no longer tethered to reception desks when handling guest and internal requests. Mobile and tablets utilising 'desk extension' software allow your team to keep in touch with each other, offering guest services from the basement to the penthouse. These platforms often integrate with your PMS (Property Management System) meaning guest information can be accessed on the move, tasks can be routed through a central point, meaning that nothing should be forgotten.
ALICE is one such tool. We caught up with their Co-Founder and President, Alex Shashou, as to what he thinks the main advantage of automating hotel operations is;
"Hotels have so many tasks to take care everyday, many of which are repetitive and mundane. To compete with the alternative accommodation sector who sell services on an as-needed basis, hotels need to be thinking about increasing operational efficiency and automation is one method to do so. Additionally, the less time that staff spend doing administrative work, the more time that staff member can spend with your guests, improving the guest experience."
Meanwhile, emerging, award winning technology like Angie offers in room voice controlled technology for a range of purposes; think weather information, flight times, Uber booking and concierge services, alongside light and temperature controls, alarm clock, voice controlled TV etc. All provide convenience to the guest, while reducing the load placed upon your operations team.
Booking Process Automation
Smart services like Voyat and Hotelchamp help personalise the booking experience for your guests, contextualising the messaging they see to ensure that it offers the best chance of conversion. A hybrid of conversion rate optimisation and marketing automation, they offer good potential for incremental revenue or increasing the average transaction value of your guests.
Kasper Middelkoop, Co-Founder of Hotelchamp, had this to say on the merits of using automation tools to personalise the booking process;
"Data shows that the key solution to increase direct bookings and improve guest relations is personalisation. By personalising the online booking experience you are engaging and interacting with your hotel guests on a personal level. It is way more relevant and it makes sense to suggest a family room to a family or offer a Christmas special if a visitor selects Christmas dates in the calendar. Personalisation means being relevant for your guests and the higher the relevancy the higher success rates. By analysing and identifying your website visitors in real time, you can instantly trigger your guests to take action in the most relevant way."
Robotics and Technology
From the slightly eccentric robotic dinosaur receptionist at the Henn na Hotel in Japan, to robotic butlers at Aloft hotels, robotic technology is certainly an interesting prospect for hoteliers. Not quite mainstream yet, but certainly something to watch for the future. Whether it could ever replace a welcoming smile, is very much up for debate.
Increasingly more commonplace is the use of technology to enhance the guest experience. The Renaissance New York Midtown's 'Discovery Portal' (pictured), serves as a city guide for guests to discover restaurants, bars and attractions with the wave of a hand or point of the finger. It doesn't replace their concierge desk, but it does serve as a fun, complementary, tool for guests that could well save their concierge time that they can re-purpose on improving the guest experience in other areas.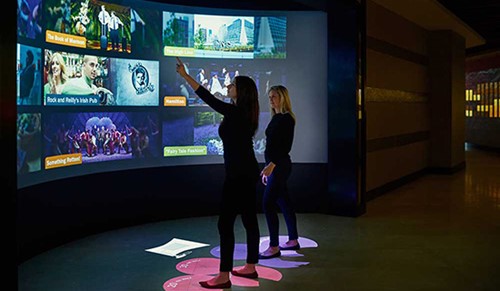 Self Check In
Following on from technology being used in guest services, self check in is becoming ever more popular as a convenient and quick way for guests to bypass the traditional check in process. Brands like CitizenM have long offered guests the option of self check in and check out, but always with the staff on standby to assist. The good news – self check in technology that integrates with your PMS (Property Management System) is becoming increasingly more affordable, with companies like Clock Software producing check in kiosks that can offer guests a room update or special offer upon checking in – ensuring that automation doesn't mean the opportunity to upsell is lost.
CEO of Clock Software, Krasimir Trapchev, thinks that self check in offers hoteliers a great opportunity to improve the experience of your guests;
"It is not only digital check in – it's a sense of comfort and respect of choice for the travellers of our time. It's unbelievable that most hoteliers still deliberately surrender the opportunity to shift their focus from stay to journey and to engage with their guests directly on their personal mobile devices and before they arrive. This way hoteliers can stay much more relevant and offer more context, comfort and choice to their guests.
Reputable industry sources show that lead times between booking and arrival are in the range of more than 30 days for 2/3 of all bookings where the average stay is just around 2 days. Still, most hoteliers do not engage with their guests prior to the arrival – not just to offer self check-in or room selection, but propose room upgrades, extra services, useful information, booking self-management, special requests, table bookings and many more.
That's not just failure to cope with modern day expectations, that's a huge loss of auxiliary revenue potential, guest loyalty and experience, falling into huge contrast with what other sister travel industries like airlines have been providing for long.
Digital self check-in on mobile devices or kiosks is just the tip of the iceberg, but the truth is that hoteliers can add a "digital edge" if their hotel PMS could actually shoot relevant messages to their guests, with active self-service links so guests could get control of their own booking, check-in and stay experience. Or, if their hotel PMS could offer multiple guest touch point gateways like self-service web apps and kiosks that allow guests to pick their choice to speak with a human or to perform their check-in or check-out entirely on their own."
AUTOMATE TO ACCENTUATE
Hotel and travel marketers must adapt to the market and manage an increasingly complex set of hotel technologies in order to achieve the optimum guest experience, both online and offline.
Recent research by Egencia and Phocuswright talks of an 'Emerging Tech-Driven Corporate Travel Revolution', projecting that in 5 years these sorts of technologies will be mainstream. Ultimately, it's in your guests interests to invest in automation and those who start now, may well reap the rewards later.
As the CEO of Virtuoso, Matthew Uphill, suggests;
"Automate the predictable so you can humanize the exceptional."
Automating the admin and more menial tasks allows you to accentuate the positives and focus attention on continually improving your guest's experience. Of course, happier guests lead to better reviews, repeat stays and those all important word of mouth referrals.
Technology can't replace good hospitality, but it can be an excellent accompaniment.
80 DAYS regularly offer guidance to our clients on technology solutions beyond our range of digital and creative services. Get in touch if we can help you.