Red Carnation Hotels are a collection of 17 award-winning, family owned and run, boutique hotels located in the UK, Ireland, South Africa, Switzerland and the USA. Based in London, the collection enjoys considerable success in the city's competitive luxury market, with the top 3 ranked London hotels on TripAdvisor being Red Carnation properties.
A longstanding client of 80 DAYS, we've worked closely with their team, driving significant direct revenue while contending with some challenging and sometimes volatile market conditions. We're delighted that they continue to entrust their online advertising with us and would like to share the story of how their focus has shifted, through consultation with 80 DAYS, to targeting the complete customer journey.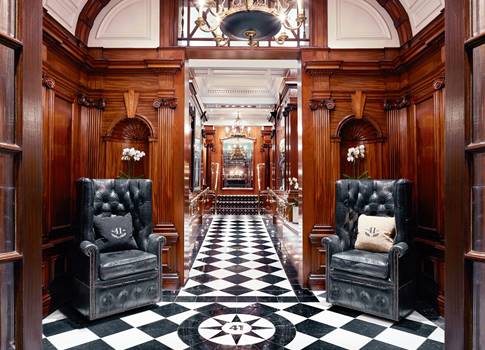 AT EVERY STAGE OF THE FUNNEL
As Suzie Thompson, Red Carnation Hotel's VP of Marketing, Distribution and Revenue Management noted in a recent conversation with 80 DAYS;
"…technology and marketing solutions should consider the full customer journey"
Of course we agree, and through detailed proposals, hands-on workshops and working collaboratively with the digital marketing team at Red Carnation, we recently devised a comprehensive online advertising strategy to address all stages within a typical purchasing funnel.
We tend to describe three key stages in a typical funnel as top, middle and bottom. Purchase intent increases as customers move down the funnel and the temptation can often be to solely target the base of the funnel, focusing only on the point of booking.
However, the customer journey typically starts with a moment of impulsive inspiration – Google often terms these as 'I-want-to-get-away' moments . They may be inspired to visit London, but where will they stay? What sights do they want to see? How long will they need to visit for? What's on during the weekend they're coming? What hotels are near the attractions that really interest them?
Focusing only on the base of the funnel restricts our ability to be included within the early stages (the top of the funnel) of the customer journey. If we never make it into a customer's shortlist during their initial information search, how can you hope to be their hotel-of-choice when they're ready to book?
Red Carnation Hotels were convinced, assigning us a budget of £25,000 to focus on their London properties, so we set about creating a range of campaigns designed to connect with potential guests along every stage of the customer journey. At the top of the funnel campaigns were created on the GDN (Google Display Network) using the following audiences and targeted with banners only. Remarketing audiences were also setup to enable us to retarget the users throughout the funnel who came in via one of the awareness campaigns.
Specifically, we looked at the following:
Top of Funnel
In-market targeting: Campaigns targeting people actively in the market for trips to London, combined with keyword targeting for London and topics relating to hotels and accommodation.
Similar audience targeting: Campaigns targeting users who demonstrate similar behaviours to those already converting on the Red Carnation website and within the hotels & accommodation topic.
Managed placements: We created custom affinity audiences for luxury travel websites including TripAdvisor, Condé Nast traveller etc. and segmented by keywords relating to London hotels. Care was taken to exclude placements from inappropriate sites and mobile apps (where we've not seen strong results for hotels historically) while negative keywords were added to protect the brand and budgets.
Mid Funnel
Non Brand campaigns were set up to target niche relevant terms such as '4 star hotels Mayfair' to target people actively searching for Red Carnation's product offering.
RLSA (Remarketing lists for search ads) were set up to target people that had been to the website but were still searching for terms like 'Hotels London'. This allowed us to re-engage with the customer using specific, targeted, offers.
Search campaigns were set up to target people that were already on the Red Carnation email database when they searched for relevant terms on Google.
Bottom of Funnel
We set up GDN remarketing campaigns using banners to retarget users from upper funnel campaigns when browsing external websites.
RLSA campaigns were set up to target people that were searching for the hotel brand on Google and Bing with an incentive offer of an additional saving.
Remarketing campaigns were set up on social channels to re-engage with specific, targeted, offers.
RLSA was set up to target people that were still searching for the brand.
THE RESULTS
With 6 properties in London and considerable cross promotion, it was best to evaluate performance across their London portfolio to properly assess the campaign's impact.
We were delighted to see traffic increase by 23% across the sites, with an additional £340,000 direct revenue.
WHAT ELSE DID WE LEARN?
At 80 DAYS we embrace a learning culture – every client, every campaign, is an opportunity to better our knowledge, both of the industry and the tools we use to achieve the strong results we obtain for our clients. Our Internet marketing team regularly meets to share knowledge and we maintain an active day-to-day dialogue through a dedicated internal Slack channel for each client.
While both teams were certain of the value in targeting those during all early stages of their purchasing decision, it was fantastic to see that hypothesis realised in the results. We were delighted when Red Carnation committed further investment to the campaigns, increasing their budgets by 100% after seeing the initial results.
We also faced a challenge with attribution – measuring multiple campaigns, purchase stages, channels and devices. However, our expert analytics team made use of Google Analytics multi-channel funnels and segments, providing enough data to rationalise that the campaigns were a huge success.
CAN WE HELP YOU?
80 DAYS are a Google Premier Partner, an accolade only awarded to 3% of all Google Partners. We have specialisms in Search Advertising, Display Advertising and Shopping Advertising so are perfectly placed to help with your online advertising requirements.
Get in touch to discuss your online marketing challenges to see if we can help.