SPOTLIGHTING SMART SUSTAINABILITY
In our second 'Sustainability Spotlight' we caught up with the inspiring team at Red Carnation Hotels. Part of The Travel Corporation, Red Carnation Hotels comprises 18 luxurious properties in prime locations worldwide.
Hot off the heels from winning the 'Sustainable Business Award' at The Cateys this year, we had the pleasure of speaking to Michelle Devlin (General Manager at The Egerton House Hotel and Global Sustainability Officer) and Scott Clinton (Global Sustainability Project Manager) to learn more about their award-winning approach.
HOW HAS RED CARNATION HOTELS APPROACHED BECOMING A MORE SUSTAINABLE BUSINESS?
Michelle: Well, sustainability has always been important to Red Carnation Hotels. When I joined 18 years ago, sustainability was a huge passion of mine. But back then, sustainability within the hospitality industry was very much turning the lights off, water saving etc. A lot of the basics.
So I started by trying a few new initiatives in my own hotel and then slowly, but surely, my passion was embraced over the years and it all started to just grow and grow. Clusters of people across the collection became interested in sustainability and wanted to get involved. Then sustainability became a part of our annual conference, and we'd agree a theme of what we would be looking to do over the course of the year.
Things ramped up further in around 2018 when I started our campaign for single use plastics; highlighting their use within our operations and the need to look for alternatives. By this point we were doing a lot of good work across the collection, but we weren't always communicating it to our guests. So we setup another campaign to share our progress and the reasons behind our approach.
Then, of course, the pandemic hit and a lot of businesses put sustainability on hold. However, we were really fortunate that our ownership was keen to maintain momentum and continue all our work on becoming a more sustainable business. We actually put it at the forefront of the business and started to think about it in the context of our reopening plans.
Together with The TreadRight Foundation, we launched a 5 year strategy, with 11 very clear goals aligned with 11 SDG's (Sustainable Development Goals) in September 2020. 
That's when Scott was appointed to help us really start to think about how we could make the most of this incredible new structure and strategy, rolling it out over our 18 properties.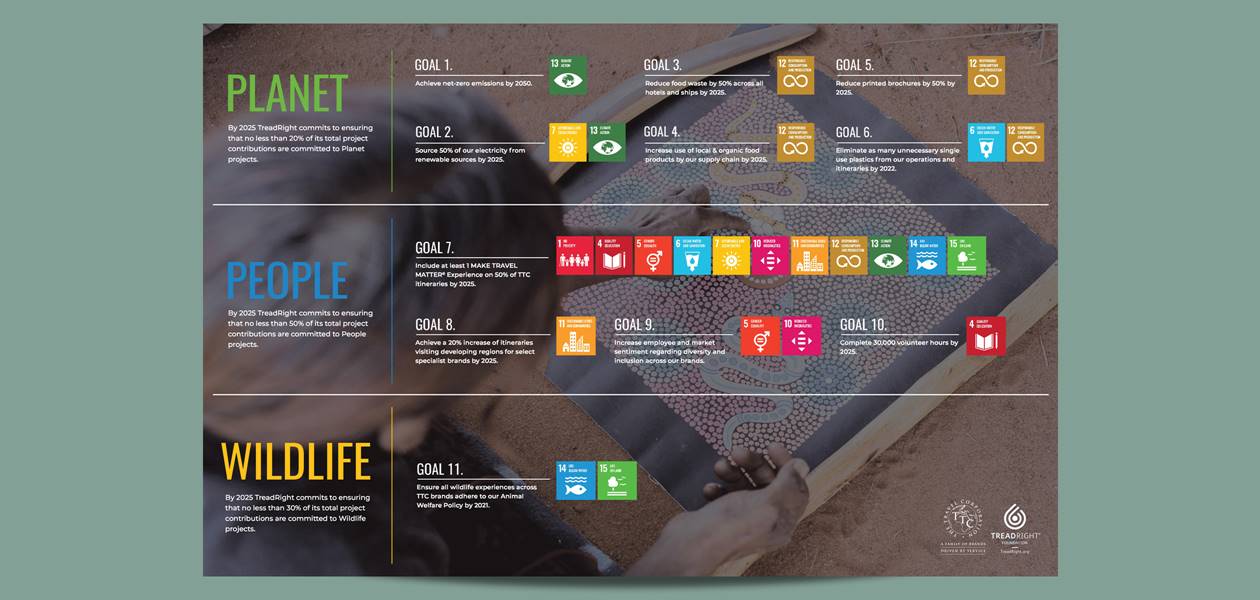 CAN YOU SHARE MORE ABOUT THE TREADRIGHT FOUNDATION AND HOW RCH'S WORK ON SUSTAINABILITY FITS IN WITH OTHER TRAVEL CORP BRANDS?
Michelle: Our Chairman, Brett Tollman, is really passionate about sustainability and back in 2008 he set up The TreadRight Foundation, a not for profit organisation established as a joint initiative between the 40 brands of The Travel Corporation, of which Red Carnation Hotels are one. This helped to provide us with considerable guidance and structure in the early stages and today. We have always been guided by the pillars of TreadRight: People, Planet and Wildlife.
The foundation has really helped us to unify our efforts across the 40 brands within The Travel Corporation, supporting various wildlife charities, artisans, communities and more. 
Scott: It's also worth noting that our five year strategy encompasses the UN's Sustainable Development Goals that each of the 40 brands can have the biggest impact on. Red Carnation is a hotel group whilst the other 39 brands are all tour brands of some sort, but irrespective of the differences between brands, this strategy has helped provide unity and consistency in our approach; having this joint initiative and establishing a clear strategy that all the individual brands could relate to. There are also many opportunities to share learnings — opportunities that aren't impeded by the fact we are many separate brands. Perhaps that is testament to the culture that the Tollman family have fostered within their businesses.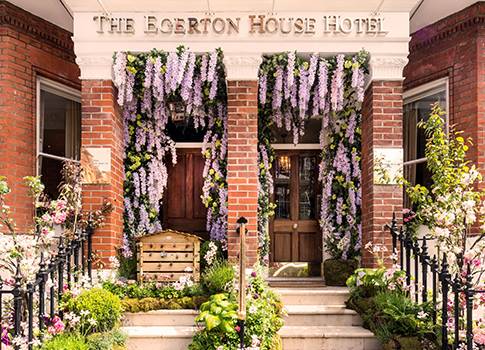 CAN YOU SHARE SOME OF THE INITIATIVES YOU'VE WORKED ON?
Michelle: One example, within our new HWTR (How We Tread Right) strategy, is our pathway to net zero emissions by 2050. This is well underway now. We're undertaking energy audits across our properties to provide us with a short, medium and long term roadmap as to how we will get there. 
And The TreadRight Foundation has setup a carbon fund as we shift focus from becoming carbon neutral to net zero. We can then apply to that fund with business cases on initiatives to achieve net zero. This is really exciting as the age of some of our properties here in London bring unique challenges. For example, The Egerton House Hotel that I manage is comprised of a pair of 1843 Victorian town houses.
Another example is all of the carbon reduction work that's going on now. Together with The TreadRight Foundation and The Travel Corporation, we are supporting carbon removal programmes like GreenWave and Project Vesta.
Scott: Another example is how we've approached reducing our food wastage. We quickly realised that we'd need technology to help us halve our food waste by 2025. So we partnered with 2 companies; KITRO in our property in Switzerland and Winnow in 12 kitchens around the world. Of course there's always a little resistance and fear that this is like a 'big brother' scenario where everything our kitchen teams are doing is being watched, but people are usually open to change if you explain the rationale. The technology uses Artificial Intelligence to identify discarded food, taking photographs of everything that goes in the bin. Scales then calculate the weight of the waste and eventually you can attribute a cost to that waste as well as the CO2 emissions generated by the waste. This has had such a positive impact; we've already reduced food wastage by 34%.
Michelle: It was the first time within our business where we've brought AI into an operation, working alongside us and providing us with a wealth of data. But actually, and most importantly, what this system has provided is a culture change in how we work with food: prevention of food waste rather than how it is disposed of once it is produced.
HOW DID YOU APPROACH INVOLVING THE WIDER TEAM?
Michelle: It's really all about collaboration. We actually just had a conference here, over 400 TTC members were here in London, and I was very fortunate to present to them. It was really lovely to hear the stories of sister brands and what they were doing, how they were interpreting the strategy and how it was working for them. Sustainability is very much a part of the entire Travel Corporation now. And you know what, it also provides some healthy competition between us all - we all want to be leading the way of course!
Despite the different brands and teams, we are all aligned by the strategy, The TreadRight Foundation and of course, our ownership, where sustainability is very much at their core.
Scott: Every brand within TTC has it's own Sustainability Officer, or Officers, supporting their teams to achieve against the goals of the strategy. Of course, you can't just work on the strategy goal-by-goal, as they all need to be achieved over the next 5 years, so Michelle came up with the idea of having Ambassadors when we launched the strategy back in 2020. We have 6 Ambassadors that look after 1, or multiple, goals which helps everyone move along at the same pace.
Michelle: It's a support network really, a sharing of knowledge. That's where it comes into it's own. You've always got someone you can bounce ideas off or share best practices with and that's really quite special.
The Ambassadors have really helped to embed sustainability within our teams — supported by the champions and sustainability committees within every property in Red Carnation Hotels. These are people working at the ground level, not necessarily GM's, Managers or Supervisors, but they all share a passion for sustainability. They're supported in delivering the message and making things happen in their property.
And this is having real impact. One of our goals was to eliminate single use plastics by 2022 and I'm really pleased to say that even with the pandemic and the introduction of plastics that came with that, we have been able to eliminate single use plastics across our operations. Now we're policing for them not to return back into the business. It was only by having all the teams involved and aligned on the goal, that we were able to make this possible.
COMMERCIALLY, WHAT BENEFITS HAVE YOU SEEN FROM BECOMING A MORE SUSTAINABLE BUSINESS?
Michelle: Well it's the Million dollar question isn't it? It's challenging to say 'yes, I can categorically see that by becoming a more sustainable business we've increased our revenue by X'.
However, across our business we work with travel agents across the US, with OTAs etc. and what we're being told is that their clients and guests are looking to book hotels with a sustainability strategy in place. Hotels that can substantiate on their sustainability initiatives. I think that is where the benefit is: the fact that sustainability is a talking point — heightening awareness and challenging our perceptions and behaviours.
Guests are becoming increasingly aware of sustainability from their own experiences, separating their waste at home etc. I believe that we as a business need to always be a step ahead of what people do at home, I think there's that expectancy now. From the 'luxury' perspective, you always want it to be better than home and that ethos applies to our approach to sustainability too. Being a luxury brand should never impede our ability to be sustainable. It's about adapting to changing cultures and attitudes and using sustainability to our advantage. We continue to be luxurious, if not more luxurious than before, because of our approach.
So, yes, there is definitely a return on our investment, even though we might not be able to quantify it. 
Scott: Of course, there are instances where a guest might disagree with our approach and question our focus on sustainability. However, I think it's really our duty to continue what we're doing to help safeguard future generations and move away from our reliance on unsustainable resources. Where else do people take their inspiration from if not the brands they encounter? We can't make massive strides as one person, or one business, but we can try to influence others.
Michelle: Absolutely. It's the same from a staffing perspective too. Once they know what you do and the commitment we have, that becomes embodied in them as well. Particularly our younger team members that are coming on board now. They're understandably more invested in what is happening and have concerns over the future. It's important that they can see the company that they have chosen to be aligned with, and perhaps have a career with, is taking this seriously.
I would say that the introduction of 'Making Travel Matter Experiences' is another really important one in terms of how we measure the success of what we're doing. Each of our properties have 'Make Travel Matter' guest experiences that involve charities, artisans, local organisations and the wider community, and are essentially designed to benefit the host as well as the guest.
For example, here at The Egerton House Hotel, we work with an organisation called The Clink, based out of HMP Brixton. This is for offenders who are looking to make a change, ready for when they're released. They have a restaurant, run as a business, where they can learn both cheffing and front of house skills. Our guests can go experience the restaurant and we've had a number of our guests visit and have an incredible evening, listening to some of their stories and hearing about the positive impact of the initiative.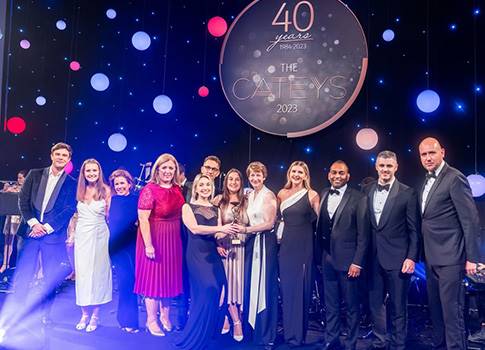 Finally, congratulations on winning this year's Sustainable Business Award at The Cateys - what does the award mean to you?
Michelle: It's fantastic to have our team's commitment to becoming a more sustainable business be recognised by our industry peers. Sustainability is truly embedded within Red Carnation Hotels, and the Travel Corporation, and influences our decision making day to day. We're well on our way, but the journey is never ending! We've got a full strategy to deliver upon by 2025 and I'm excited to see what the future will bring.
Looking to take a more strategic approach to sustainability? We can help...