Full creative and digital agency 80 DAYS are helping record-breaking long-distance cyclist Mark Beaumont broadcast his attempt to cycle around the world in eighty days, via the development of a new website, artemisworldcycle.com
The 2nd of October, 1873. Englishman Phileas Fogg embarks on an epic adventure, relying on the technology of the day, steam and rail power, to steer him around the world in just eighty days.
Of course, Fogg's journey is a classic adventure story, a work of fiction by the French novelist, Jules Verne. But the story lives on, inspiring modern day adventurer and record-breaking long-distance cyclist Mark Beaumont to attempt to cycle the world in an unthinkable, eighty days. To some this would seem inconceivable, but to Beaumont, it's another in a long list of surmountable challenges.
Fogg and Beaumont share a love of travel, the great unknown, and while parallels between the two can certainly be drawn, Fogg was content in solitude, while Beaumont is a social adventurer, keen to share his stories with a global audience.
No stranger to cycling around the world, Mark completed his first record breaking trip in February 2008. Nine years later and technology has evolved exponentially, affording us the opportunity to almost 'share the saddle' with Mark as he pedals around the globe once again.
So beyond the advanced bike and support crew, what digital technology is powering his record attempt and how did he choose a digital partner with which to travel the world?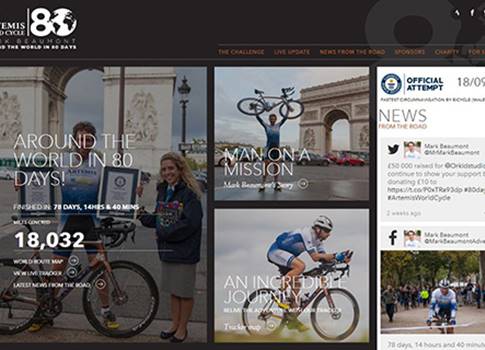 THE ADVENTURER'S CHOICE
Mark's been training for this challenge for the last 2 years and describes his latest world record attempt as "the culmination of everything I have practiced and built in the past 20 years".
Consequently, Mark was understandably keen to ensure that his digital partner for such an adventure was equal to the task. Beyond our name and shared love of the Jules Verne classic 'Around the World in 80 Days', Mark was impressed at our travel and hospitality heritage, our technical know-how and the team's enthusiasm at working on such an exciting project.
Of course, as you'd expect from a man consumed by a rather important deadline, the turnaround for the project was tight. 80 DAYS Digital had just 3 weeks from our initial meeting to complete the website before the public announcement on April 3rd. Mission accomplished.
A TRULY WORLD WIDE WEBSITE
The very definition of WWW, the Artemis World Cycle website will accompany Mark around the world, broadcasting his inspiring journey to a global audience.
But behind a slick design, what did we build for Mark?
A fully responsive site – We anticipated that a large majority of visitors would be browsing from smartphones and tablets, tuning in to Mark's adventure as they go about their daily lives. Like with all our web builds, we made the site responsive so that the same functionality and content is available across all devices.
Live tracker – Website visitors can follow Mark's progress around the world and check his current speed and altitude. How? We've setup a live RSS feed from his GPS (Global Positioning System) that gives us location information directly from his bike, updating the map every 15 minutes. Mark has a total of 4 sensors (from Trident Sensors) in place; 1 on the bike, 1 in his support vehicles and a 4th as a backup. These feed into a standard Google Map, but we also styled SVG (Scalable Vector Graphics) maps showing the full route in advance. Using Scalable Vector Graphics ensure the maps look sharp on screens of all resolutions.
Counting down – The Umbraco 7 CMS (Content Management System) controls the advancing of the date counter; charting how many days, hours and minutes remain along with Mark's current status.
Social wall – We partnered with Curator.io, a social media aggregator, meaning website visitors can keep up to date with all of Mark's social channels from one page. The content changes dynamically and we can pin key updates to the top of the feed so that visitors get the latest updates in real time. Importantly, Curator.io doesn't use iFrames which in non-technical speak means – it works beautifully on all devices.
High definition – In addition, the website features embedded YouTube videos from Mark's channel, filmed in high definition by the team at Moonsport and uploaded from the road.
Contrast this to 2008, when Mark undertook his first trip around the (less technologically advanced) world. Mark's mother, Una Beaumont, filled us in on the technology behind his 2008 record;
"Mark set off with his mobile, Trident Sensor tracker and paper maps marked up with the route and I had identical copies at basecamp."
"We had a website, called Pedalling Around – and I wrote a daily blog which was very popular along side the tracker. What we didn't have was Twitter, FB, Strava, YouTube, Instagram."
Mark's main method of keeping in touch with family to let them know how he was progressing was through mobile phone, with patchy signals and spells of doubt over his location.
"He picked up SIM cards when possible but we never knew when he would be out of signal or for how long so keeping an eye on the tracker was sometimes the only way of knowing he was okay and moving on the right road. Charging the tracker battery was sometimes difficult for him which meant on a couple of occasions the tracker stopped on the website but he was in fact still going. This happened once in the outback of Australia, at the same time as he had no mobile signal, so I just had to wait for a few days until I heard from him and that all was okay. In the mean time there was a mass of followers contacting me through the website wondering what was happening, where was he, was he okay?"
As Una touched on, social media usage was still in rapid growth in 2008; Twitter started to make inroads in user numbers, starting the year with just 500,000 unique monthly users and Facebook had (just!) 58 million active users at the start of 2008, compared to 1.23 billion users in December 2016.
Smartphone usage was taking off, but Apple was still to launch it's App store (July 2008), which would later transform the mobile market.
In short, the modern adventurer of 2017 needs a technology stack equal to his/her aspiration, something we're proud to have delivered for Mark.
FOLLOW MARK'S JOURNEY
Mark starts his record attempt in Paris on the 2nd of July, 2017. During April 2017, he's cycling 3,500 miles #AroundBritain, 240 miles per day, in preparation!
You can follow Mark's progress for both adventures via his live tracker.
WE'RE READY FOR YOUR CHALLENGE!
While you may not be cycling around the world, we're keen to hear about your digital challenges. Can we help with a multi lingual website for your 5 star hotel? How about rebranding a luxury travel brand?
We're specialists in the luxury travel sector, why not get in touch to see how we can help you.