80 DAYS is delighted to have been shortlisted by Google for two awards at the EMEA Premier Partner Awards 2017, within the Display Innovation and Shopping Innovation categories.
Google created the Premier Partner awards to "recognize and celebrate our top-performing Google Premier Partners for their contributions to digital marketing, product innovation and client growth."
We now look forward to the Google Partner Summit held in Dublin on September 28, 2017, when winners will be announced.
DISPLAY INNOVATION AWARD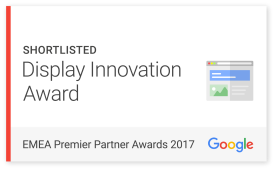 Within the Display Innovation category, 80 DAYS were shortlisted for work with Red Carnation Hotels, a collection of 17 award-winning, family owned and run, boutique hotels located in the UK, Ireland, South Africa, Switzerland and the USA.
In a campaign that targeted the complete customer journey with search and display advertising, Red Carnation Hotels saw traffic increase by 23% and direct revenue grow by £340,000.
More information about our work with Red Carnation Hotels can be found here.
SHOPPING INNOVATION AWARD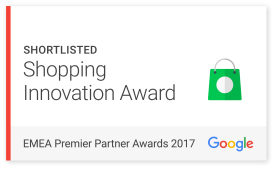 Within the Shopping Innovation category, 80 DAYS were shortlisted for work with Wonderland Models, the largest model specialist in Scotland and one of the largest in the world.
Our Christmas 2016 campaign for Wonderland Models saw us adapt our strategy, focusing on where in the purchase funnel adverts were being targeted, rather than solely on campaigns showing a direct return on investment. The results spoke for themselves, with a 243% increase in advertising CTR (Click Through Rate) and online revenue doubling compared to the year before.