The Royal Crescent Hotel & Spa is an iconic property with a rich history; a 5 star hotel and spa just minutes from the historic centre of Bath.
A longstanding client of 80 DAYS, we've had the pleasure of working with them since May 2013, helping with a wide range of digital and creative services including SEO, PPC, conversion optimisation, design work and training.
In 2017, after major refurbishment, they undertook arguably one of the greatest challenges in the marketing of a hotel – that of changing the perception of their brand, approaching 80 DAYS to help.
NOT JUST A HOTEL, A DESTINATION
The Royal Crescent Hotel & Spa already enjoyed a loyal guest following. However, they wanted to shift brand perception among current and future customers; rather than visiting Bath, they wanted guests to feel like The Royal Crescent & Spa itself was the destination.  With a range of luxurious ancillary services, there was also a desire to encourage longer stays with the opinion that 'one night is never enough'. A longer stay would afford guests the opportunity to enjoy all that the hotel and spa had to offer, firmly establishing it as a resort property and a destination in it's own right.
Indeed, on their website they now describe their property as;
"…not just a hotel, a destination with 250 years of history behind it and a passion for making precious memories to last a lifetime."
While asking guests to;
"Embrace the luxury of having time on your hands"
Beyond this repositioning, they also had some other key objectives of brand refinement;
To showcase the refurbished hotel and spa through both visual and written content
To reflect the new brand digitally
To drive incremental interest and bookings via increased PPC advertising that reflects the new brand
To improve the website's overall commercial performance (traffic, revenue, conversion)
OUR APPROACH
We started with a brand workshop in January 2017. There was a consensus that before we tackle building a new website, we should focus attention on refining their brand, who it should be aimed at, as well as how best to convey the personality of The Royal Crescent Hotel & Spa. After their recent refurbishment, there was a strong desire to firmly establish what really made their hotel and spa, and their brand, unique?
Significant thought went into deciding upon the four cornerstones of their brand; distinctive 'truths' about The Royal Crescent Hotel & Spa that defined them within the marketplace. After much deliberation, it was decided that these should be;
Choice
Service
Authenticity
Setting
Finally, we worked closely with the team to decide upon a brand definition – a set of enduring and shared perceptions that would 'tie' together the four brand cornerstones and help influence consumer decision, bringing value to the business. The concept of 'modern elegance' was chosen. With a mantra of "creating moments to treasure" and a focus on conveying choice, the highest level of service and authentic experiences within a wonderful and unique setting, The Royal Crescent Hotel & Spa's new brand was born.
This was translated into a new website framework, design and build, launching in full on July 27th, 2017 and incorporating new photography and copywriting. PPC campaign refinement followed, with campaigns carefully crafted to reflect their new brand ethos.
THE RESULTS
Of course, in the interest of client confidentiality we've removed the exact revenue figures from the Google Analytics graph below, but the uplift of the new website, especially from October 2017 onwards, is clear;

2017 ended with the following year-on-year improvements since the launch of the new website and brand;
Total revenue was up 19%
Total website transactions were up 12%
Website conversion rates were up 24%
Not only that, but website engagement also showed year-on-year improvement too;
Pageviews were up 7.4%
Website bounce rate fell 13.6%
Organic traffic also experienced very strong year-on-year growth, up 39%. An investment in increasing PPC advertising spend by 37% was rewarded with a fantastic 165% growth in revenue year-on-year, and a ROI of 10:1 on ad spend.
BEYOND THE COMMERCIAL SUCCESSES
While we're fiercely proud of the collective efforts of both 80 DAYS and The Royal Crescent Hotel & Spa during this project, and the subsequent uplift in performance, we're also delighted that the results have extended beyond the commercial benefits. It's equally satisfying that the new brand we developed together has influenced so much of their business moving forward. The team now even select suppliers that align with their brand definition, to ensure they're surrounded with those who share the same values. So influential are their new brand cornerstones that they even influenced the approach to the filming of their new video.
The Royal Crescent Hotel & Spa's Marketing Manager Sarah Moon has been delighted with the project.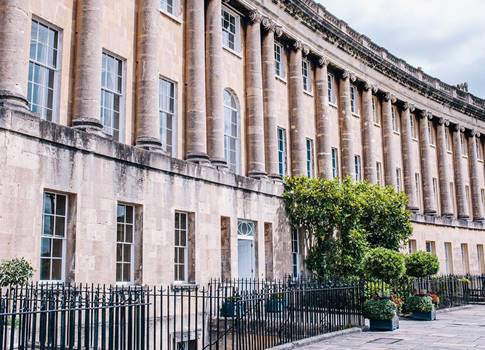 "We're so happy with our new brand and website! Both reflect The Royal Crescent Hotel & Spa beautifully and have really helped establish us as more than just a hotel. 'Modern elegance' is now central to everything we do – it has impact across the entire business."

Sarah Moon
Marketing Manager
Do you need help creating a new brand identity? Perhaps you have an established hotel or travel brand that's long overdue some love?