As a business so invested in hospitality, we've been keeping a very close eye on the industry impact of Coronavirus.
What's become very apparent is the deeply ingrained passion and resilience of hoteliers and the travel industry as a whole. We've been working closely with our clients to adapt their marketing strategies and messaging while remaining true to their brand positioning. Across the industry, we must find creative ways to help hoteliers amidst challenging trading conditions. And, if there's ever been a time to stand by your brand values, it's now.
Below we showcase some examples of this in practice, highlighting;
Positive messaging
Very flexible offerings and booking terms
Waiving of cancellation fees
Commitment to both guest and employee health and safety
On-brand messaging
Sympathy to travellers situations and present lack of confidence in booking
THE HOXTON – WE KNOW PLANS CHANGE
The Hoxton group focused on the friendly positioning of a length-of-stay special offer, with very flexible terms while sympathising with travellers; 'we know plans change'.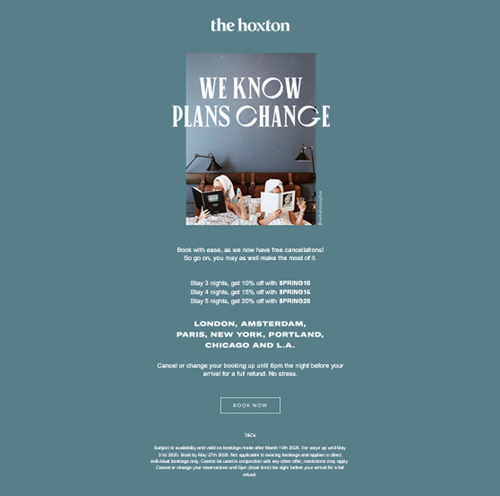 THE ATHENAEUM – HAT TIPS, NOT HANDSHAKES
London-based 5-star hotel, The Athenaeum, shared positive messaging reinforced by a friendly tone while highlighting a flexible cancellation policy.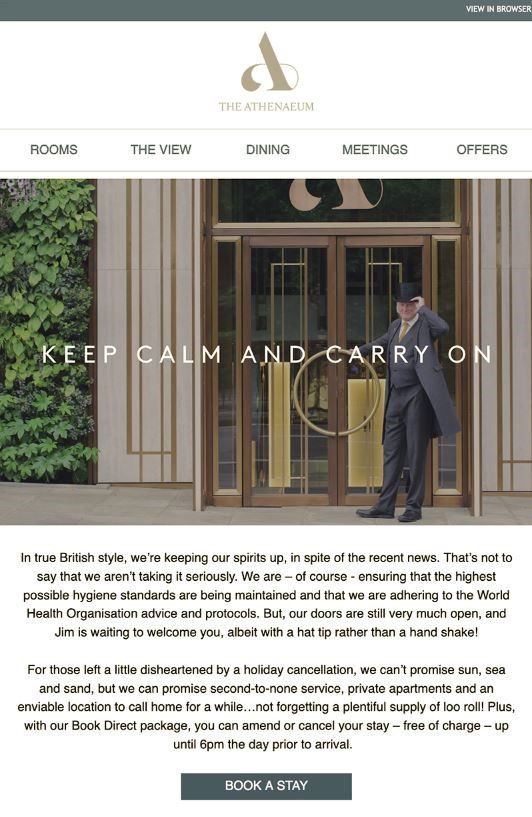 IHG – A MESSAGE FROM OUR CEO
One of the world's largest hotel groups, InterContinental Hotels Group shared 'an important message from our CEO' to add gravitas to their messaging and help reassure guests of their commitment to the health and well-being of both guests and employees. Alongside this they highlighted waiving of cancellation fees up to the end of April and flexible rates for bookings beyond this. As well as this, they highlight their high standards of health and safety when it comes to the cleanliness of their properties and even go as far as to reduce the tiers associated with their loyalty scheme – recognising that reduced travel is an unfortunate inevitability given the present circumstances.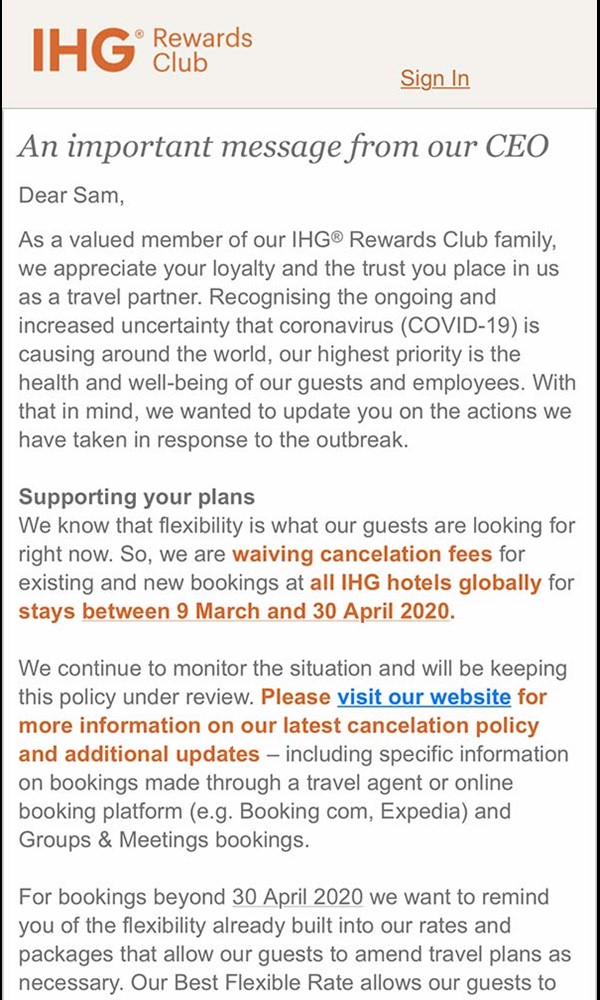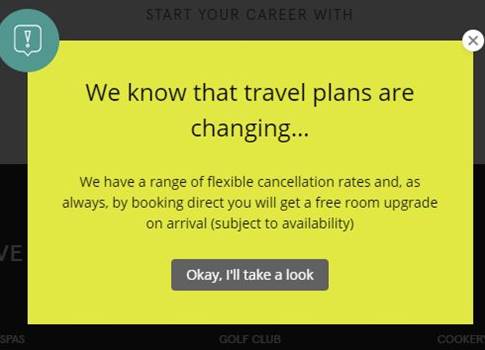 SOUTH LODGE – JUST BEFORE YOU LEAVE THE SITE
Exclusive Collection property, South Lodge, shared this messaging as users moved their mouse toward the browser bar (showing intent to leave the site) to highlight their understanding of market conditions and changing travel plans, while highlighting flexible terms and book direct benefits.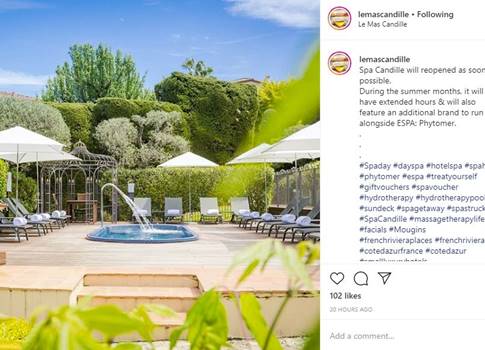 LE MAS CANDILLE – MAINTAINING POSITIVITY
Le Mas Candille, a 5-star resort near Cannes, was unfortunately forced to close. However, their latest Instagram posts focuses on the positives around their inevitable reopening – with extended opening hours and new spa product ranges.
SIX SENSES – WE WILL SUPPORT YOU
In a very human message, reflective of their brand positioning, Six Senses CEO, Neil Jacobs, has posted a message of support for their guests;
"In these uncertain and confusing times, it is important to take care of ourselves and our loved ones, and stay connected, even if remotely, with our colleagues, partners and communities"
He goes on to say that; "Ultimately, we will support you to do whatever you feel is best for you and your loved ones."
CHEWTON GLEN – WE NEED TO SUPPORT EACH OTHER
Addressing 'friends', 5-star resort Chewton Glen's Executive Director, Andrew Sternbridge, outlines their proactive approach, staff training and overarching approach of banding together with typical 'British Spirit'.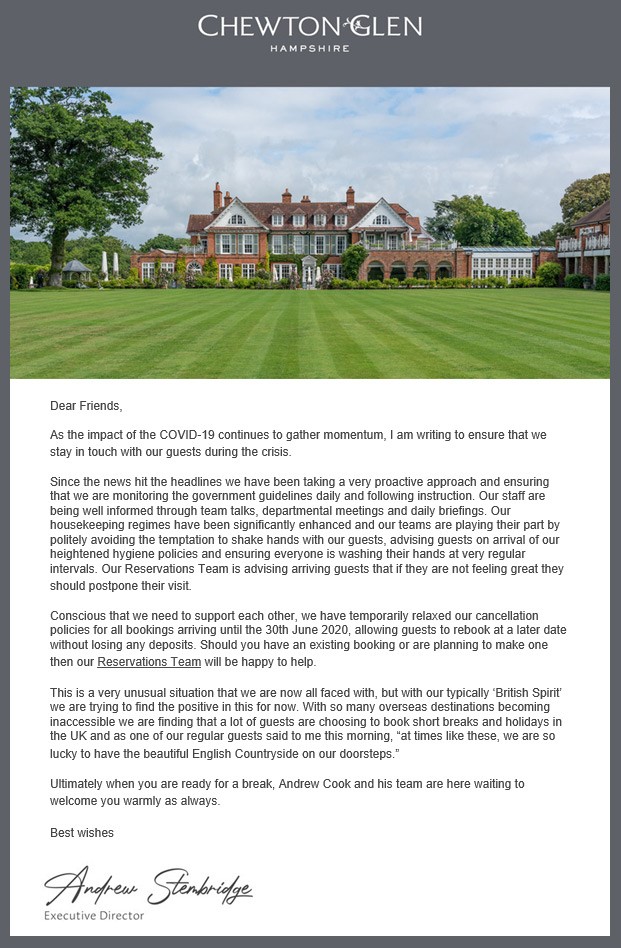 FIVE PALM JUMEIRAH – STAYCATION GOALS!
Focusing on a domestic market, the Five Palm Jumeirah hotel in Dubai is offering an all-inclusive staycation offer. Dubai hotel's aren't known for having all-inclusive packages so this is a definite move to stand out in the market.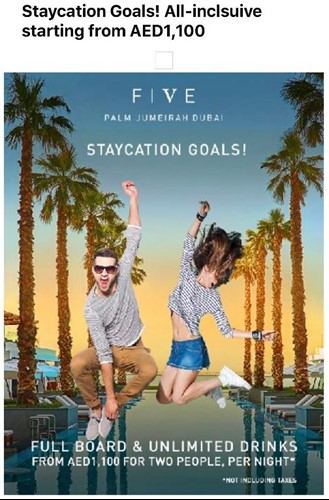 THE INN COLLECTION GROUP – COMPLIMENTARY TOILET ROLLS WITH EVERY STAY!
Finally, an example of some humour being used to lighten the mood a little by The Inn Collection Group – noting the panic buying of toilet roll in the UK (and abroad). Of course this is delivered with the assurance that they are taking the situation very seriously and have implemented extensive health and safety measures within their properties.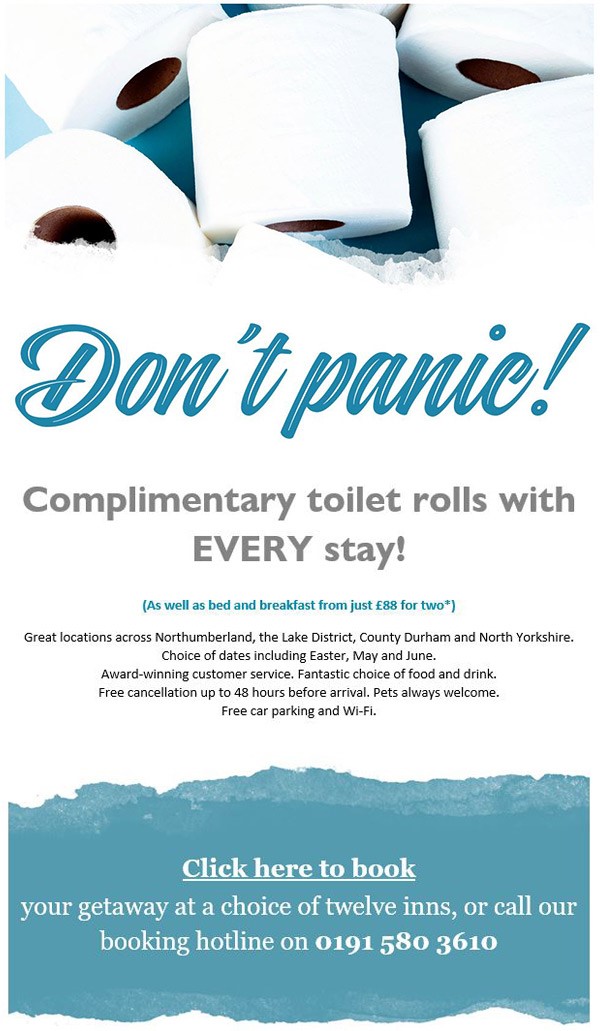 IN SUMMARY
Market conditions are certainly challenging but we remain committed to guiding hoteliers on how best to navigate the Coronavirus outbreak and will continue to provide regular update on industry performance and potential strategies to mitigate the impact.