Sunsets & Sunrises
We promised ourselves we wouldn't get emotional, but well, it's the end of an era. Google recently announced that they will be sunsetting (no longer tracking, no longer supporting) Universal Analytics as of the 1st of July 2023.
Universal Analytics has been a go-to resource for hotel marketers looking to evaluate their website and digital marketing performance for over a decade, so its retirement is a pretty big deal.
However, as sure as the sun sets, it rises again. Enter the successor; Google Analytics 4.
What is Google Analytics 4?
Google Analytics 4 (or GA4) is the next evolution of Google's popular web analytics service, an invaluable tool used to track website, app and marketing performance since Google acquired Urchin way back in 2005. As of July 1st, 2023, Google Analytics 4 will replace the previous iteration of the service, called Universal Analytics (or UA). 
Ultimately, GA4 is being introduced to tackle the growing importance of GDPR and user privacy online, reduce our reliance on cookie data and fill any potential gaps in data using advanced machine learning (ML). All while making data analysis simpler too. Used effectively it will help you capture business critical first-party data, which is even more valuable now that third-party data is becoming increasingly scarce.
If you haven't already, we would strongly recommend that you setup GA4 now to begin gathering data, ready for the switchover in July 2023.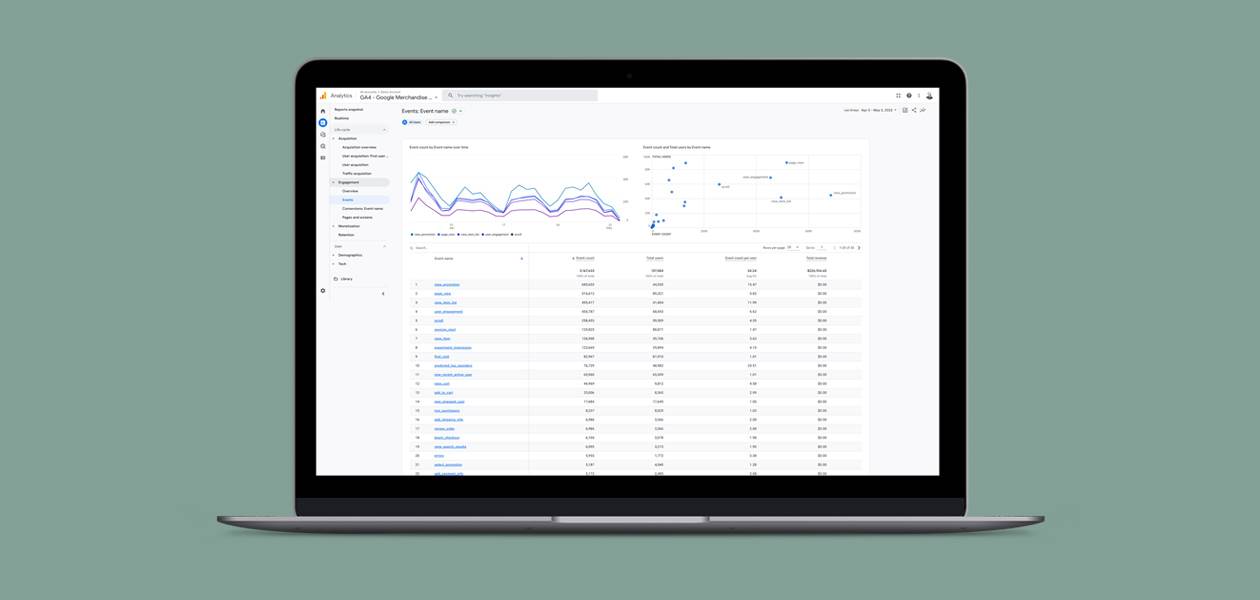 What's changing in Google Analytics 4?
Quite a lot, actually.
The very core of Google Analytics, the data structure and data collection logic it employs, is changing. In plain English (or as plain as we can make it), instead of focusing on session data, GA4 will primarily look at Users and the Events they complete. It's more focused on the entire guest lifecycle, rather than just the pages they visit along the way.
The good news is that some of these Events will now be automatically tracked (via 'enhanced measurement') within GA4. Examples include; page views, scrolling, outbound link clicks and file downloading. These Events are quite common to all websites and you'll probably want to add more Events to track the full range of a user's behaviour when navigating around your hotel's website. For example, booking funnel analysis, engagement with certain Calls to Action (CTAs) etc. These can all be implemented using Google Tag Manager with custom code and, unsurprisingly, we can help with that. 
Blah, blah, blah - where's the benefit? 
Ultimately, this new events-based approach will allow for more flexible, predictive, analysis when it comes to evaluating a guest's online behaviour. And it's all underpinned by machine learning. This should help you to anticipate a guest's actions in the future and focus your marketing attention on some of the higher value segments of your audience. Essentially this could become an extension of your revenue management function - if you're able to better monitor and anticipate demand for a certain room type online, you can make the necessary adjustments to room rates and increase yield accordingly.
Another benefit of this new approach is that it should allow better analysis of cross-platform performance. For example, providing better understanding when a guest researches your hotel on mobile but books on desktop.
The way reporting is organised and displayed is changing too. You'll see a different layout, centred around the guest lifecycle, with shorter reports and summarised data making it easier to identify key trends. Gone are tables upon tables of difficult to interpret data, replaced by scorecards and simplified overviews.
Perhaps unsurprisingly, GA4 offers even greater integration with Google Ads too, allowing you to build, maintain and share audiences that can help direct your paid search activity. For example, if a user completes an Event for booking a room, you can remove them from the retargeting audience in Google Ads accordingly. Or perhaps a user views the family room type page on your website - boom! - add them to a family-related audience on Google Ads and serve them a more personalised advert if they don't convert first time round. You can even import micro conversions (e.g. telephone clicks, email clicks, reached first stage of booking engine etc.) to help further optimise your campaigns.
The opportunities are near limitless. You can even export GA4 data to BigQuery (Google's data warehousing tool that allows analysis of larger-scale data) which opens up even more analysis opportunities like the creation of customised attribution models. 
Sounds awesome, but it can't be all good news, right? 
Historical comparison (year-on-year) is going to be more challenging in 2023 as the data from GA4 and Universal Analytics aren't always easily comparable. That's why it's so important to get GA4 setup as soon as possible - so you have a more valuable point of comparison when the switchover is enforced in July 2023.
Also, some of what's presented is guesswork, albeit guesswork fuelled by advanced machine learning models filling gaps in your data. Some may have concerns around that reliance on technology rather than on recorded data itself.
Should I do anything now?
Yes. Affirmative. Definitely. In fact, stop reading this and get started immediately! If you've not already set up a GA4 property for your website, do it today even if you don't plan on fully utilising GA4 until 2023. Why? For two reasons;
You'll be gathering valuable historical data which will give you a future point of comparison
You'll be strengthening the machine learning models working away behind the scenes, making future analysis more meaningful
Don't panic though. Setting up a GA4 property doesn't mean you lose access to your Universal Analytics property and all the data you've gathered so far - you can continue to make use of Universal Analytics in parallel until the switchover in July 2023.
What will happen in July 2023?
We'll all raise a glass to Universal Analytics, before Google stops processing new hits from the 1st of July 2023. After the switchover to GA4, your Universal Analytics property will stop recording data, but remain available to access for "at least 6 months" according to Google. The smart move would be to export all your Universal Analytics data during July 2023 so that you retain a copy of everything you've learned over the years. Set a reminder now!
The only exception to the above is for those using Google Analytics 360. You'll have until October 1st 2023, to collect and analyse Universal Analytics data. Lucky things.
What next?
It's absolutely critical to invest time and effort in an optimal analytics setup today, to ensure that you have the data you'll need to make better marketing decisions tomorrow.
Handily, Google have provided some guidance on how to setup GA4 within their support documentation. Of course, this is universal advice for everyone, rather than specifically for hospitality or travel businesses.
If you need some help, give us a call. We're implementing Google Analytics 4 for all our clients and have devised a bespoke hotelier-focused approach to capture as much first party data as possible through the advanced implementation of GA4.
This includes;
Event setup
Ecommerce tracking setup
Cross-domain tracking setup
Custom dimension setup - to enable more enhanced reporting and smarter Google Ads audience targeting
Booking engine funnel setup
Google Ads integration
Search console integration
Audience setup
Internal traffic exclusion
You can find out more about our Google Analytics 4 setup package for hoteliers from our sister company, Hotel Benchmark, here. Pricing starts at £895.
For bespoke setup of Google Analytics 4 for your hotel or group: