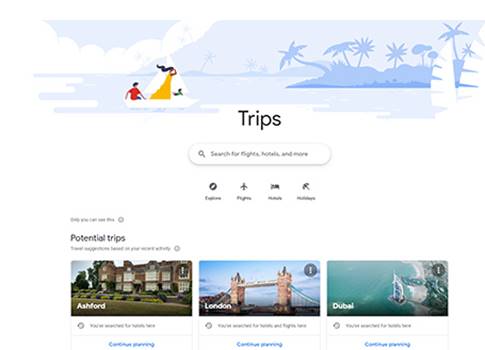 With the recent release of the Google Trips platform on both mobile and desktop, users have been provided with [almost] everything they need to plan their next trip in a single and unified online experience.
This new feature can be found via Search or by visiting www.google.com/travel. Users can also search for flights, hotels, and package holidays as well as researching destinations and planning day trips. You may recognise some of the features from existing or earlier Google products, including Google Maps, Flights, Hotel Ads and the Google Trips app – all of the goodness with a shiny new and modern look.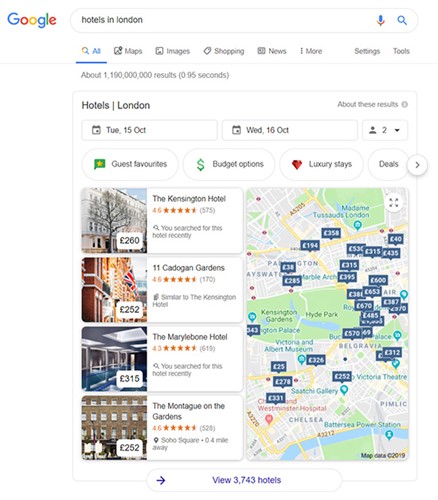 Google Trips widget in Google Search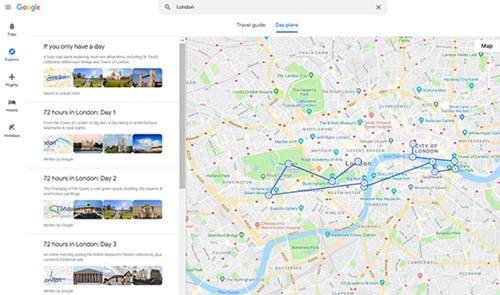 Day Plans on Google Trips
The homepage of Google Trips is personalised, so each user may see different content and suggestions based on their search habits. There is also a wide range of filters that can be applied to make the search results more relevant and hopefully reduce delay within the purchase consideration stage.
The question is: how are these changes affecting the travel industry? Whether looking at this from the perspective of a big hotel brand or an independent property, this article will help you understand how Google Trips ecosystem for hotels is changing and what to look out for in order to give yourself the best position in the starting blocks.
GOOGLE MY BUSINESS & HOTEL ATTRIBUTES
It's important to note that having your Google My Business listings up-to-date is even more important now, as this will ensure the visibility of your hotel for the most relevant searches based on the location and filters applied. You can find out more about the new hotel attributes section in Google My Business here.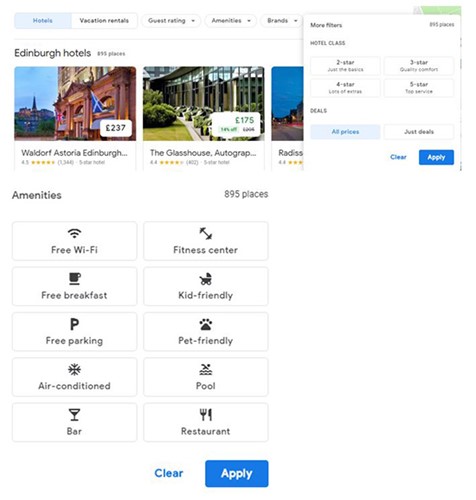 METASEARCH (GOOGLE HOTEL ADS)
Another striking feature of the new Google Trips platform is the prominence of room rates. This highlights the importance of running metasearch campaigns, which provide links to your hotel's booking engine and allow potential guests to make the booking direct as opposed to purchasing via an OTA.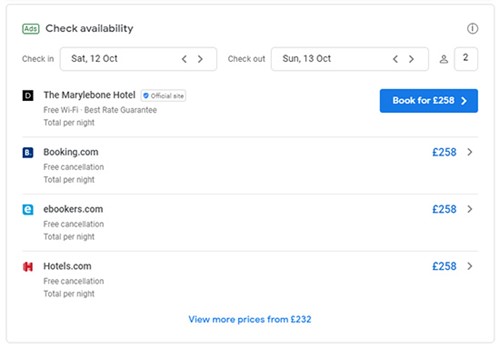 PROMOTED HOTELS
Promoted Hotels is a new campaign type scheduled for release later this year. It would allow hotels to pay for a more prominent position in the list of properties under the Hotels tab. The screenshot below outlines where the Promoted Hotels Ads could be displayed. However, the full details regarding potential targeting options have not yet been confirmed.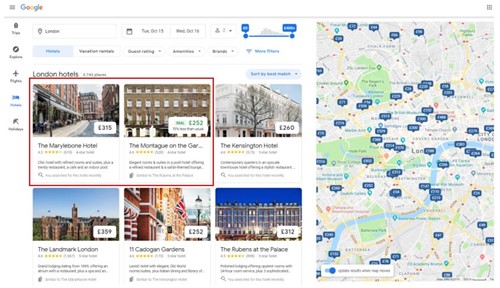 BOOK ON GOOGLE
Book on Google has also received a dedicated space with the new Google Trips release. This feature allows users to book a hotel room without leaving the Google interface. As a result, advertisers would receive a notification with the booking details from Google. It appears that, at the moment, large brands with a wide room inventory such as ebookers.com are dominating Book on Google campaigns.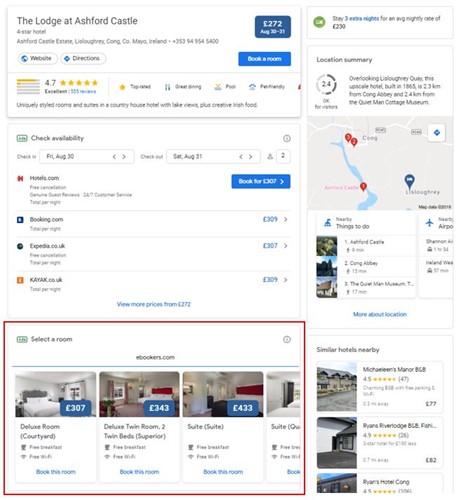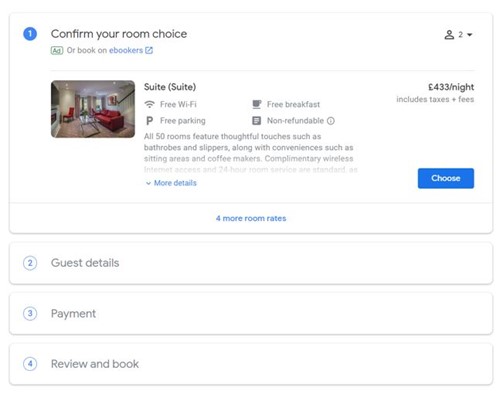 IN SUMMARY
Google Trips consolidates many elements of trip planning and a hotel's digital presence into a single online experience.
Never before has it been so vital for hoteliers to make sure that not only Google Search network campaigns are maintained but also that their Google My Business listings are accurate and updated with relevant attributes.
A prominent presence on Google Hotel Ads via metasearch advertising and strong rate parity are also essential in this increasingly competitive market.
We'll have to wait and see how Promoted Hotels and Book on Google affect things, but in the meantime it appears that the digital world for hotels is getting a lot of attention from Google – creating an opportunity for many brands to shine.
If you'd like support with your hotel's digital marketing strategy, please get in touch!