Last week saw the launch of Travel Insights with Google; a trio of online tools aimed at helping hospitality businesses and destination marketing organisations "…reach global travelers at every stage of their journey, from dreaming about a trip to booking flights and hotels to exploring local businesses."
Hotel Insights with Google – uses hotel search data to help small and independent hoteliers determine where to target their marketing efforts.
Destination Insights with Google – helps destinations better understand the demand for both domestic and international tourism as well as prioritise which countries to target with destination marketing campaigns.
Travel Analytics Center – available to Google's commercial partners, allowing them to blend their own data with Google's own demand data and insights.
Below, we delve into the first two tools in a little more detail.
HOTEL INSIGHTS WITH GOOGLE
"With Hotel Insights, you'll discover where interest for your region is highest right now, explore booking trends, and learn about the digital tools you can use to attract new guests and grow your business." Google, 2020
We believe that Hotel Insights with Google will undoubtedly prove useful to hoteliers in 2021, helping to unearth emerging search trends, identify recovering international markets and ultimately reach more potential guests.
For example, if we take a closer look at England as a destination, we see that search interest for hotels is down between 25 and 50%, year-on-year, during the last 12 weeks.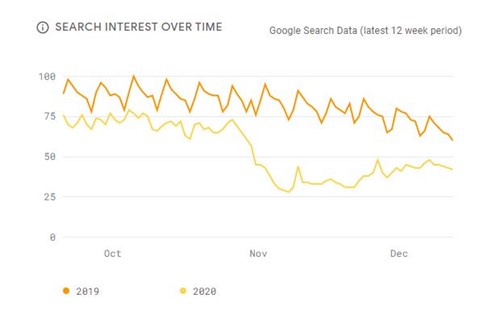 Hotel Insights with Google – search interest data for hotels in England
Of course, while this may make for a disappointing read now, it will prove invaluable in determining how and when to start ramping up your marketing budgets as travel reopens for business during the course of 2021.
The tool also helps to rationalise the common knowledge that the hospitality industry, for now, should be focused on maximising the returns from domestic travellers.
For example, we see that during the last 12 weeks, around 75% of hotel search interest is from domestic searches for the Île-de-France region of France (encompassing Paris);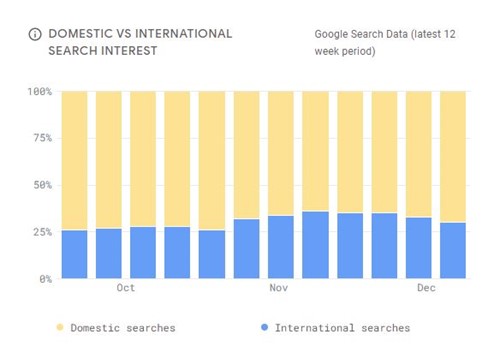 Hotel Insights with Google – search interest data for hotels in Île-de-France
Finally, the Global insights report will prove especially useful in 2021 – flagging the most popular inbound markets by search interest. In the example below we see that domestic search interest dominates interest in Île-de-France during the last 12 weeks, but this will undoubtedly change as vaccines are made more widely available and international travel resumes.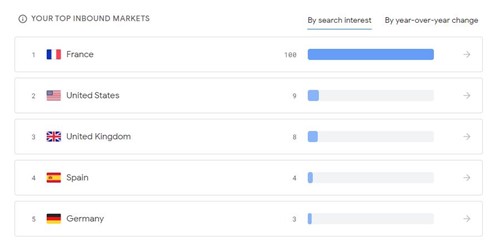 Hotel Insights with Google – inbound market search data for hotels in Île-de-France
DESTINATION INSIGHTS WITH GOOGLE
"Explore how tourism demand is changing and how this year compares to previous years' demand" Google, 2020
Destination Insights with Google should help destinations make better informed decisions on how to capitalise on domestic travel interest and determine where international travel demand will recover most quickly.
For example, if we look at Mauritius and domestic interest in accommodation we see increasing demand throughout 2020, in some instances exceeding 2019 levels.

Destination Insights with Google – domestic travel demand for accommodation in Mauritius in 2020
This can be broken down further into destination subdivisions and cities, along with highlighting changes in travel demand. This should help destination marketers take a very granular approach to audience targeting in 2021.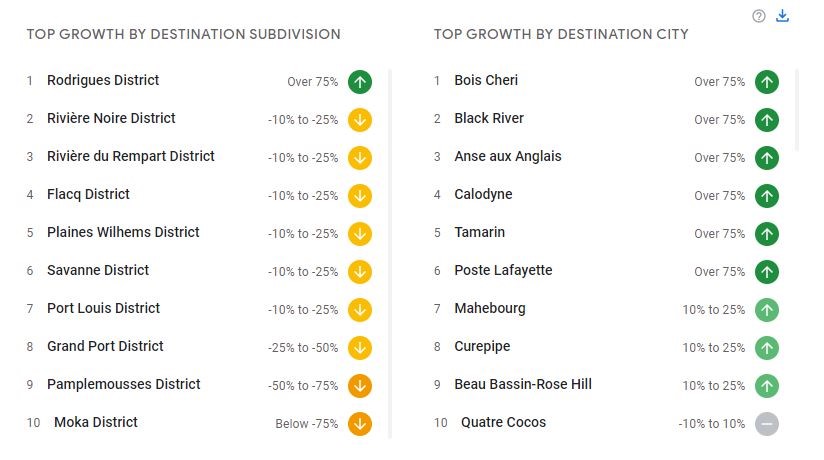 Destination Insights with Google – Mauritius domestic travel demand for accommodation by destination subdivision and city
Of course, this tool will also prove very helpful for destinations to determine which international markets to target and when, as flight routes reopen.
PREPARING FOR 2021
In what has been an incredibly unpredictable year, Google's new tools for hoteliers and destination marketers offer another helpful data point in determining where to focus your efforts as travel recovers in 2021.
Coupled with benchmarking data from Hotel Benchmark, hoteliers can closely monitor emerging hotel marketing trends and opportunities as we move into the new year. And destinations can use the additional insight to start building highly targeted campaigns and reach those in-market for travel in 2021.
Since 2002, 80 DAYS has worked with some of the world's finest hospitality brands, helping them to drive direct sales and navigate challenging market conditions. If you'd like to discuss how we might be able to help you, please get in touch.