While we agree that competing on rate alone shouldn't be the only focus of your hotels marketing efforts, it's certainly a big factor in the purchasing decision of your guests. When they can so easily compare prices from OTAs (Online Travel Agents) on metasearch channels like TripAdvisor, Google Hotel Finder, Kayak, Trivago et al, it becomes a necessity for hoteliers with strong rate parity to display their rates alongside those of the OTAs in order to compete for the direct booking.
Our metasearch clients are observing traffic and revenue increasing by an average 5% each month, such is the pace of growth of this exciting distribution channel.
The opportunity to compete on a level playing field with OTAs and attract more direct bookings to your hotel may well be reason enough to explore metasearch as an option. However, for those still undecided, we present 4 reasons why hotel metasearch should be a part of your distribution strategy below;
1. NON-BRAND REACH
Half of the traffic that feeds into metasearch is non brand. That is, someone searching for terms like 'luxury hotels bern' or '5 star hotel london', who hasn't heard of your property before, may well see your hotel within metasearch channels and book a stay accordingly. Not only are you driving fantastic non brand awareness for your property, you're also generating incremental revenue too!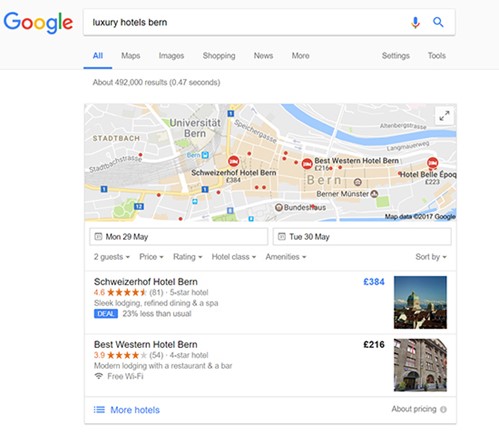 2. A 9:1 RETURN ON INVESTMENT
The average ROI for our metasearch clients is a healthy 9:1, for every £/€/$ they spend on metasearch, we return 9 back.
The conversion rate of different metasearch channels varies significantly, so care must be taken to choose the most appropriate. For example, in a recent study we undertook, Wego converted at 0.78%, compared to Google at an impressive 4.13%. That said, Wego shared joint 2nd spot for overall ROI with Google as it drove a strong average transaction value. A strong ROI is only achieved through careful optimisation of the channels a hotel appears in and the bids (on a cost-per-click basis) made – a service that 80 DAYS undertakes for all metasearch clients.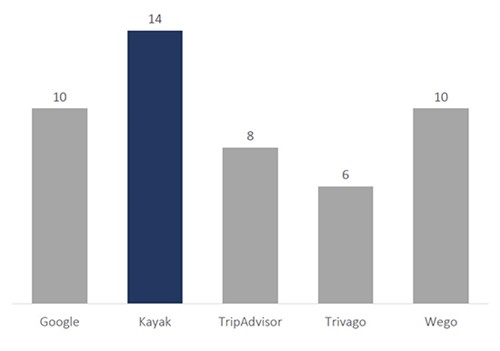 3. ASSISTED CONVERSIONS
Of all metasearch traffic, 46% of the time it is not the last channel before a conversion is made. What does this mean? Metasearch might not always be attributed with having been the final point of referral for a booking, but it's playing a vital part in informing a guest's decision making process.
4. A MILLION MORE REASONS
Our metasearch clients are now seeing over €1 million in room bookings each month. Contrast this to July 2016, when our metasearch programme had achieved just over €1.2 million during a 6 month period and you get an idea of the scale of the spectacular growth of this channel, up an impressive 400% year on year.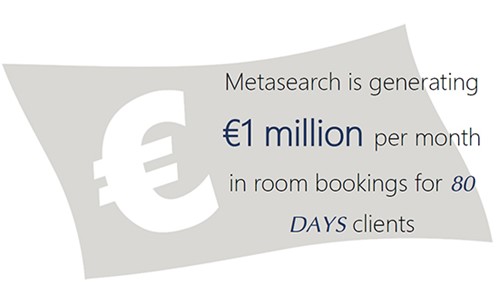 Bookings made through metasearch equate to an average commission for our clients of around 12%. This could well be similar to the commission paid to some OTAs, however the value of starting that booking relationship direct cannot be underestimated. Our clients who gain a new customer directly, market to them effectively and encourage repeat direct bookings see a far greater guest/customer lifetime value (CLV) than if they had booked through an OTA.
Convinced? Let's get started. Contact us to discuss how 80 DAYS could help your hotel improve its distribution strategy through the addition of metasearch advertising.