Please note, this article was written before the Coronavirus pandemic had a significant impact upon the hospitality industry. While many of these trends do still apply, we'd recommend reading our latest insight reports to better understand the present market trends.
-
Another trends post. Another collection of buzzwords, laden with acronyms and conceptual discussion around what might happen. Packed with technologies and ideas that seem to be the domain of the larger groups, out of reach to the independent hotelier.
Not so here. We've opted to take a slightly different approach, presenting 5 actionable hotel marketing trends for 2020, each with a realistic takeaway so that you can experiment within your own property to see what works for you in the year ahead.
So what should be on your radar?
1. SELL EXPERIENCES NOT ROOMS
The guest of 2020 is no longer simply booking hotel rooms, they're booking experiences. With a wealth of accommodation options available in most locations, the challenge is in both differentiating and conveying your guest experience.
88% of luxury hoteliers say their guests place importance on experiential travel (Source – Strategic Vision)
How do you represent your experience? One of the most obvious methods is through your website's content, both written and visual.
Focusing on local experiences, cited as important to 86% of travellers in 2020 (compared to 54% in 2019), is a great place to start. AirBnb's 'Live Like a Local' campaign was perhaps the pioneer in this approach, but hoteliers can absolutely follow suit. Try to give your guest an idea of what it's like to live and breathe a destination. One great example is Slice of the City by The Doyle Collection – inspiring visitors through promoting the destination with authentic content curated by those with an affinity to the location they're writing about, e.g. their weekends in london. Another leading example is Red Carnation Hotels, who have leveraged their prime locations and partnerships with local palaces in London to offer some truly unique experiences for their guests.
Of course another important area for consideration is your hotel's photography. Research we conducted with STR toward the end of 2019 suggests that photography now has the single biggest impact on a users' decision to book a hotel for both the 4-star and 5-star market.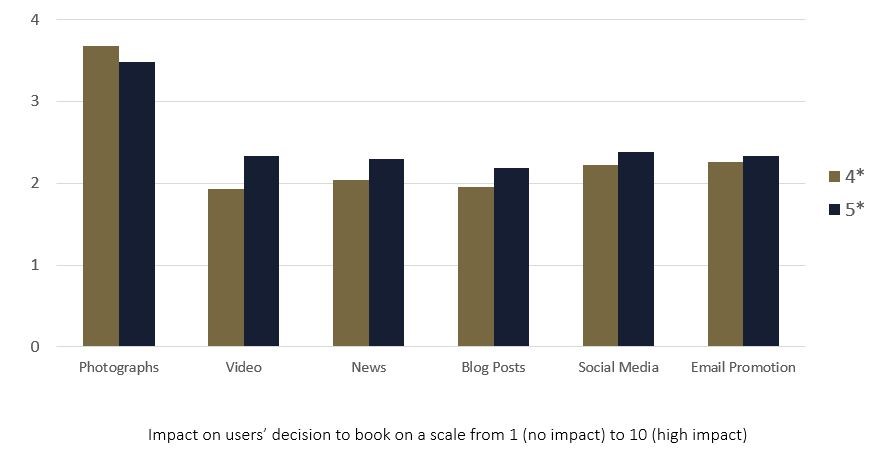 Consider how photography can convey the experience of staying at your hotel. Forget shots of empty, yet impressive, restaurants and perfectly aligned pens and water bottles in empty conference rooms. People are naturally drawn to people. Showcase your guests (or at least some models!) within your properties to make it easier for potential guests to imagine themselves relaxing within your hotel, sitting at your bars or doing lengths in your pool.
Remember too, a hotel stay is as much about the staff your guests encounter as it is the exceptional product; the doorman that's welcomed guests for over 20 years, the housekeeper who the regulars know by name (and smile). These are the characters and personality of your hotel – one of the true differentiators of your experience. Have them front and centre; on your website, on your social media. Not only will it help a guest envisage their stay, it's deserving recognition of the impact that your team has on making each and every stay special.
💡Action – Identify a handful of staff members to feature in your photography. It can be challenging deciding who you should pick so why not take a look at TripAdvisor and guest feedback; who's getting name-checked often? Start by testing the water on social media. You don't always need to have high production value – pop 'Portrait' mode on the iPhone and snap a smiling face with your bustling reception behind. Gauge your guest's reaction and engagement and take it from there.
2. SUSTAINABILITY MATTERS TO YOUR GUESTS
A recent study suggested that;
Over half (55%) of global travellers report being more determined to make sustainable travel choices than they were a year ago, but barriers include a lack of knowledge and available or appealing options when trying to put this into practice (Source)
Simply put, make it easy for potential guests to understand what efforts your making to create a more sustainable offering. Beside the obvious benefit to our environment, this can help differentiate your brand and messaging – helping you to stand out.
For example, plastic usage by hotels, cruise ships and other suppliers was cited as an area of concern by 51% of travellers in recent research by Strategic Vision. It's fantastic to see hoteliers taking notice – recently The House of Daniel Thwaites announced that they'd cut 400,000 plastic bottles from their rooms – a commendable effort!
Another notable example, The Travel Corporation, have taken their approach to sustainability to the next level with the creation of the TreadRight Foundation, a not-for-profit organisation with the aim of having a positive impact on the communities within which their brands operate. They lead with an important message;
"Travel is an incredible gift. It has the ability to open our eyes to the unique cultures and spellbinding beauty of the natural world. But with this gift comes a responsibility – to protect the world as we know it."
Sustainability extends beyond a marketing message, hot topic or buzzword; it's the very future of travel.
💡Action – Look beyond the standard 'pop your towel in the bath if you'd like us to wash them' messaging. Today's guests expect more. Are there any areas of the business where you can reduce wastage? A great example is moving away from printed guest directories to a digital solution – e.g. delivering them via a mobile App like Criton. Chances are you'll find cost savings alongside environmental benefit and be able to lead with a positive marketing message, win-win!
3. MEET THE NEEDS OF YOUR GUESTS
As an industry we're perhaps guilty of occasionally forgetting the reason our guests stay with us in the first place. Their stay extends far beyond the hotel room. We must focus on what they want; their needs and desires. What is the right information to include in your marketing message in 2020?
47% of travellers decided not to book [a trip] because of unmet needs (Source – Google)
A 2019 study we commissioned with STR outlined the key purchasing priorities of both 4-star and 5-star hotel guests. You could argue that the results were unsurprising, but often these key pieces of information are missing from a hotel's website homepage (for example);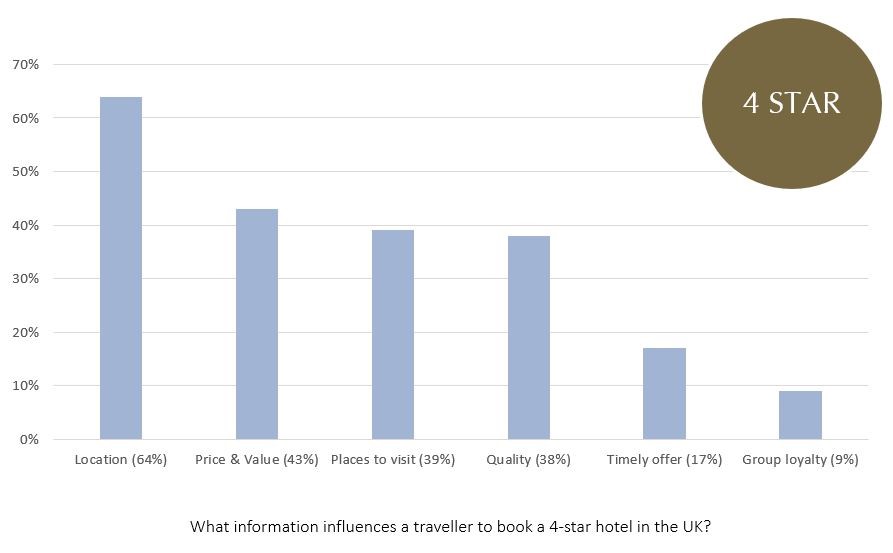 What can we infer from this? You should focus on your location, price/value, local places to visit (especially for a leisure market of course) and reassurances around the quality of your product. Of course, ensure you do so while reinforcing their impact upon the experience a guest can expect.
The 5-star market presented a similar picture, with the notable differences around price/value and quality – guests care less about price but naturally expect a very high standard of service. Does your marketing messaging and website reflect this?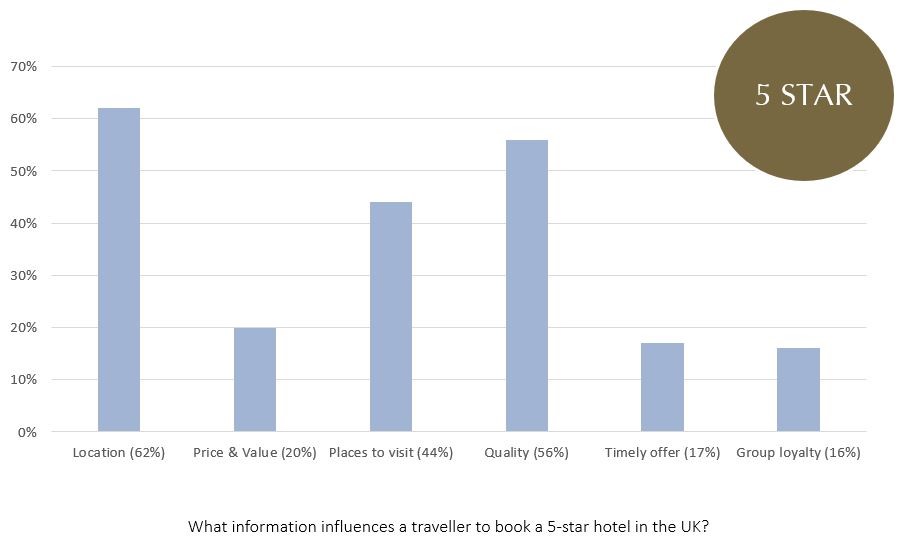 💡Action – Ask someone completely unconnected with your hotel to visit your website and determine – in under 15 seconds, where it's located and what star rating it is… If they can't, then you know what you need to do next. Why 15 seconds? Studies vary as to the average attention span for a website user but common consensus is somewhere between 8 and 15 seconds – better make that first impression count!
4. BE AUTHENTIC
Today's guest is bombarded with marketing messages and endless promises. Amidst this 'noise', can you use authenticity to help your messaging stand out? It's certainly important to an independent hotel's guests;
92% of travellers believe that an independent hotel will offer a more authentic experience (Source – 80 DAYS study of 1,200+ travellers in 2019)
Of course it can be challenging to be objective and wholly authentic when marketing your own hotel. You're naturally passionate about your brand and may overlook some of the shortcomings.
That's where initiatives like curated content (see The Doyle Collection example from point 1) and the use of influencers and user generated content may help to present a more rounded view of your offering. Influencer marketing for hotels can be a very effective strategy if managed carefully – often they have extensive experience (and equipment) to produce high quality, authentic, content that will support your marketing efforts.
Of course, each and every guest that stays with you has the opportunity to influence others, through more conventional methods like TripAdvisor, but also through the imagery and content they post on social networks. Approach those tagging your hotel in social media posts to ask if they'd mind you re-sharing – a great way to both canvas what matters most to your guests and feature impactful content within your feed.
💡Action – Compare what you're posting on Instagram with what others are posting about you – is there a disconnect? Why? Remember, your brand is what others perceive you to be. Disappointed that your guests aren't posting more about your hotel? Take a wander around your property to see where a little refurbishment might help create some 'Instagrammable' spots – think 'inspiring quotes on walls', perfect pastel tones, signature pieces of furniture and centrepiece lighting.
5. BE OMNIPRESENT ON METASEARCH TO WIN THE BOOKING
2019 was a landmark year for hotel metasearch advertising. At 80 DAYS, we saw a 180% increase in bookings vs. 2018, alongside it's highest ever conversion rate of 2.11% – higher even than that of branded PPC.
Metasearch also played an increasing role within the wider booking journey of a guest; over 25% of users engaged with metaseach advertising before booking via another channel. Valuable search criteria data generated by metasearch engagement can help fuel smarter bidding strategies on other digital marketing campaigns, e.g. retargeting, to drive incremental bookings that may have otherwise been lost to competitors. Increasingly hoteliers are finding this approach vital in helping to fill need areas with direct business – e.g. Sunday nights or seasonal dips, without having to resort to opening up availability to commissionable third parties.
However, most are focusing on around 85% of the metasearch landscape, the 'big 5'; Google, TripAdvisor, Trivago, Kayak and Bing.
To be omnipresent on metasearch and give yourself the best opportunity to win the direct booking, hoteliers should consider presence on regional metasearch channels that account for the other 15% of traffic. Examples of these channels can be seen below;

💡Action – Evaluate your metasearch offering – could you be making more of international markets? Read more about the missing 15% and get in touch to discuss how we might be able to help you to become omnipresent on metasearch in 2020!
Get in touch if you're looking to further develop your hotel marketing strategy. 80 DAYS work with over 450 hotels worldwide, helping them to navigate trends and ever-changing market conditions, consistently driving direct revenue and return on investment.