With local lockdowns still in place for many hotels across Europe and others close to ending, maximising direct bookings and increasing ROI is more important than ever.
Here are some key actions that hotels can take today that will optimise the performance of their metasearch campaign.
Google Hotel Filters
As outlined in our earlier report 'How Hotels Can Navigate National & Local Lockdowns', flexibility is presently more important than price, with bookers paying more for the freedom to cancel or change a reservation. In response to the change in the industry, Google has added a 'free cancellation' toggle to their hotels search platform. Make sure your rate feed is sending flexible rates to metasearch. Shown below, customers can now choose to show only rates that allow free cancellations. As most OTAs provide free cancellations for at least some of the rates, they will mostly show when this is toggled.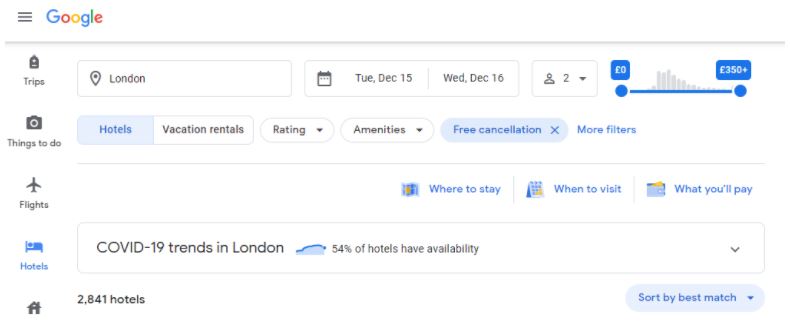 Also, it's important to remember that Googles metasearch channel is tied to your Google My Business listing. In order to be filtered accurately it is vital that your hotel's local attributes are up to date, particularly if you are running a metasearch campaign.
Destination Ads
With less tourists visiting many regions, destination ads should be an integral part of your COVID-19 recovery strategy. Destination ads are now available on most channels in various forms. They all have one thing in common; providing brand awareness to users actively searching for hotels in the local area, for a comparatively low CPC (Cost Per Click). Domestic travel will likely be more in favour in 2021. As outlined in our recent reports, advertising focus should be on domestic markets in the short-medium term, especially where metasearch budgets are usually exhausted within the month. Destination ads give us the opportunity to target users looking to book a staycation at the early stage in their customer journey. What's better, as these advertising methods are newer, there is less competition and therefore lower CPCs for those hotels who do avail of them.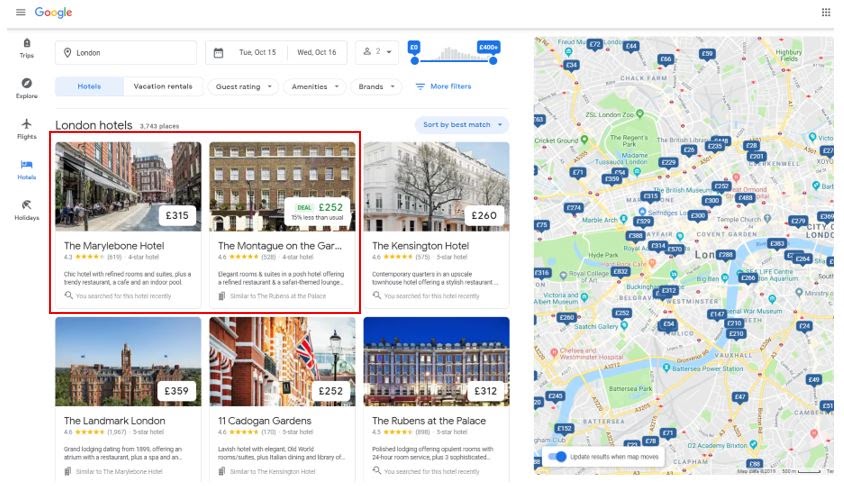 Bidding Adjustments 
New bidding mechanisms make it easier than ever to focus metasearch spend where you need it most. Whether it's to fill mid-week, weekends or shoulder nights, or to target specific regions; bid adjustments can be made to ensure your budget is spent where it benefits your hotel the most. 
New options include: 
Length of stay
Number of guests
Advanced booking window
Check-in date
Check-in day of the week
This gives you more granular control in terms of fine tuning your metasearch campaign to your commercial needs by leveraging your metasearch investment.
Utilise All Metasearch Channels
The big four channels (Google, TripAdvisor, Kayak and Trivago) make up the majority of metasearch traffic. However, all the smaller, often regional, channels give hotels an opportunity to increase exposure, in particular if reduced budgets are holding back exposure on the better known channels. As explained in 'Hidden Secrets of Metasearch: The 15%', regional metasearch channels give you an opportunity to gain a competitive advantage against your competitors, by generating direct bookings on sites that you may be currently surrendering to OTAs. These smaller channels operate on a commission model, which means you don't pay anything unless bookings are generated. 80 DAYS, along with our Metasearch connectivity partner DerbySoft, offer a fully managed metasearch service that gives your hotel simple and direct connectivity to all Metasearch channels including all of the smaller channels your competitors may be neglecting. 
Booking Engine = Landing Page
An aspect of metasearch that is often overlooked is the design of the hotel booking engine. Unlike other PPC campaigns, metasearch directs users directly to the booking engine as opposed to the website's homepage or offers page. Adding your key USP's and promoting flexible rates will increase conversion rates and drive incremental bookings. Consequently, the booking engine should be viewed as a landing page for hotels running metasearch campaigns.
Review Rate Parity Regularly
Making sure you are offering competitive rates alongside OTAs is vital when running a successful metasearch campaign. Rate parity can lead to a significant increase in CPC and reduce overall exposure and bookings as a result. Hotels are 4 times more likely to convert if they have a rate parity score of 90% or higher. We regularly monitor rate parity across all channels for our clients and flag violations as they arise. 
Get in touch to discuss how 80 DAYS can support your hotel with fully-optimised metasearch advertising.